Corporate Governance
Corporate Governance
To live up to the trust of our stakeholders, we focus on transparency and fairness in our management as an important business priority and strive to enrich our corporate governance to improve our corporate value.
SII has adopted the status of a company with a Board of Company Auditors.
Board of Directors
Our Board of Directors, consisting of 10 board members, supervises company management and makes important business decisions for the SII Group.
Twelve meetings were held in FY 2016. At these meetings, outside auditors asked questions and provided advice where appropriate with the aim of ensuring validity and appropriateness. We also introduced the senior vice president system to separate business execution and supervision, and to improve the speed of business execution. There are 14 senior vice presidents (six of them also act as board members as of July 2017) who serve one-year terms, which is the same as that of board members.
Auditors
The Board of Auditors consists of two internal and two external auditors. They follow the audit policy and plans determined by the Board of Auditors, exchange opinions based on information gained through audits at each site, and monitor the directors' operations.
The full-time auditors attend management strategy meetings and other important meetings, hold regular meetings with presidents and management divisions, and exchange opinions with internal audit divisions. In addition, SII develops systems that allow them to confirm the contents of the electronic approval system and collect information necessary for audits.
The internal rules are also developed for the system of reporting to auditors and have specified to submit periodic reports on the status of internal audits, risk management, compliance activities, and compliance consultation services.
The outside auditors' attendance at the Board of Directors and the Board of Auditors held in FY 2016 are as follows.
Makoto Hirota
Board of Directors: 12/12
Board of Auditors: 17/17
Norimasa Kuroda
Board of Directors: 11/12
Board of Auditors: 17/17
KPMG AZSA LLC was appointed as our accounting auditor. The Board of Auditors and the audit corporation conduct audits by understanding the audit plan and sharing information at regular meetings.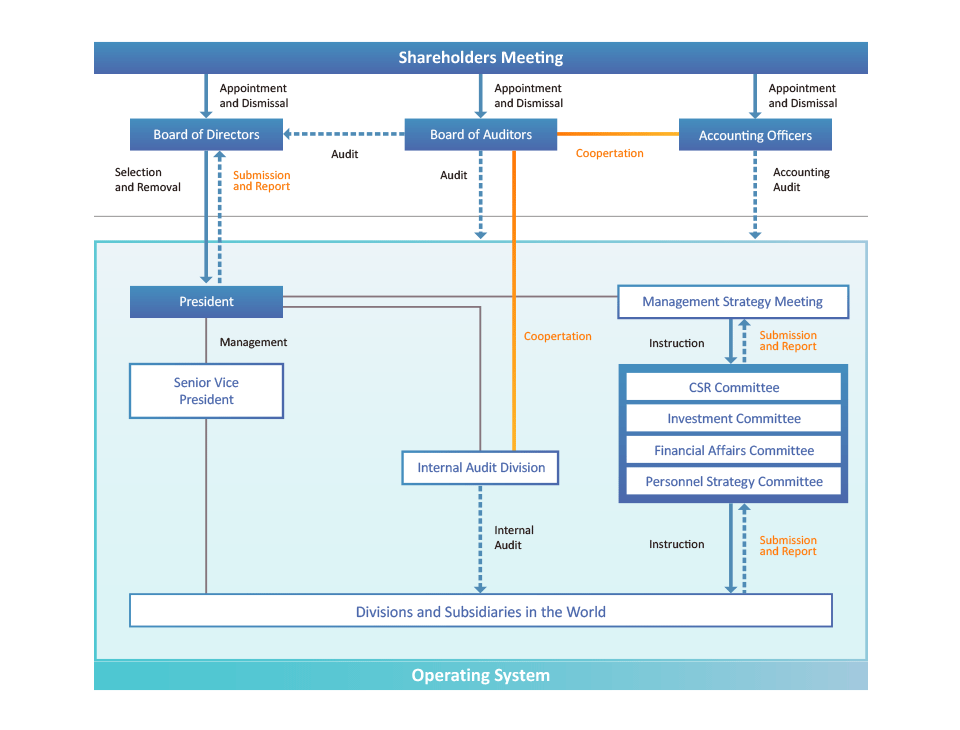 Internal Control System
At SII, the internal control system is developed and the status of its operation is reported to the SII Board of Directors for supervision every year. This is based on the "Basic Internal Control System Policy" resolved by the Board of Directors.
For our internal control system with regard to financial reporting in compliance with the Financial Instruments and Exchange Act, our senior management evaluates the SII Group's internal control system and we report the results to a publicly listed parent company, Seiko Holdings Corporation (SHD), as one of their subsidiary companies. This is to evaluate and report the internal control system relating to SHD's financial reporting.
In terms of internal audits, the Corporate Audit Office performs periodic management audits and the management divisions conduct various kinds of audits on a regular basis.