Intellectual Property Initiatives
Basic Policy and Management of Our Intellectual Property
Regarding intellectual property as an essential resource for business activities, we proactively obtain and utilize our development results as intellectual assets. Based on the mid- to long-term policy to "develop a business culture that respects intellectual property," the Intellectual Property, R&D, and Production Technology Divisions work together to implement intellectual property-related activities to create new business and supporting divisions in cooperation with the Corporate Strategy Division.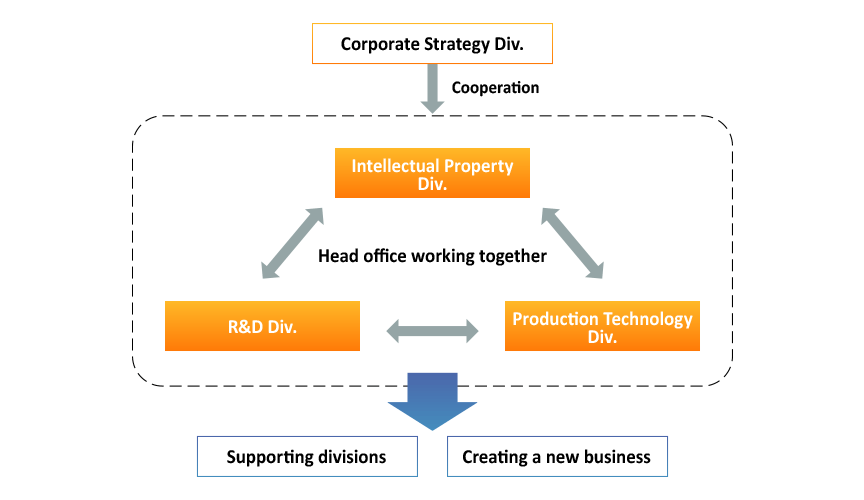 Status of patent applications and patent grants
SII's technology development originated from watch manufacturing based on its patented technology.
Although the number of our patent applications within Japan exceeded 600 per year up to FY 2011, actions such as business reviews and alliances resulted in a downward trend from FY 2012, and the number of applications in FY 2018 was 199*1.
Similarly, patent applications outside Japan exceeded 500, but dropped from FY 2012, with the number of applications in FY 2018 at 187*1. The countries of application, in order, are China, the United States, and European countries. European applications are decreasing each year.
*1 The semiconductor business was spun off from the SII Group in January 2018. The number of applications made for the semiconductor business in FY 2018 is excluded.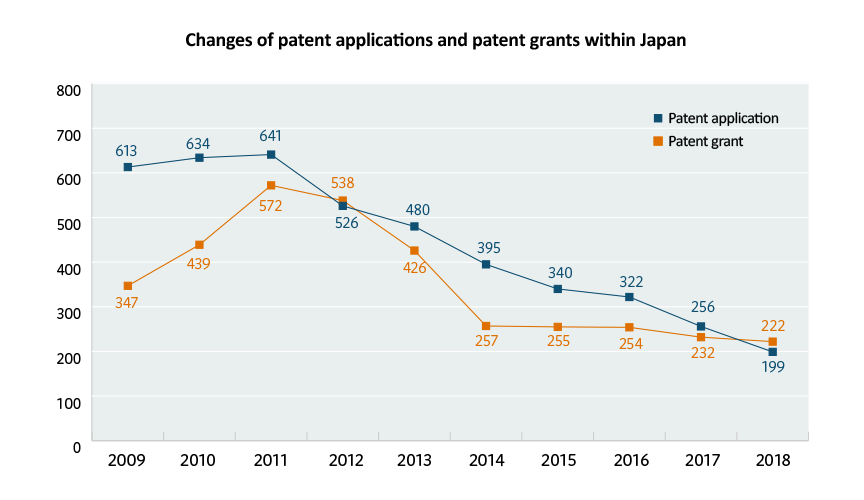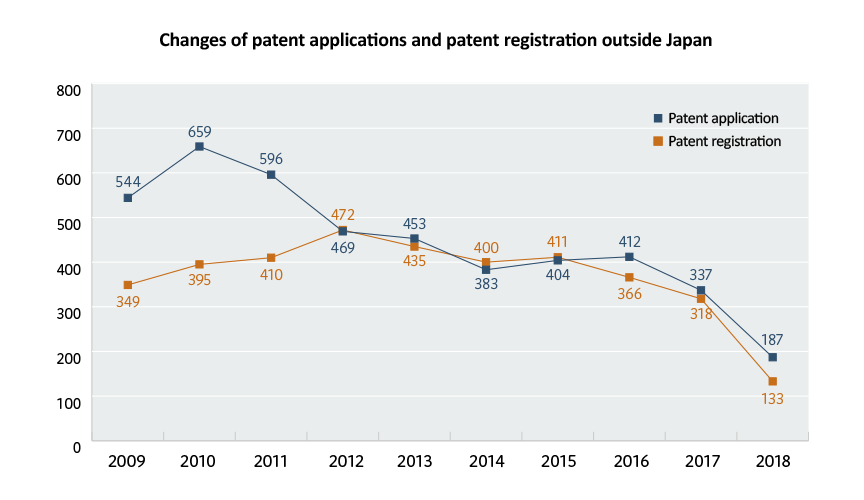 For patent grants in Japan, we improved the patent grant rate from FY 2008, acquired rights, and greatly increased the number of patents. The 1,624 patents held in 2008 dropped temporarily due to alliances and other factors, but recovered from FY 2013 and reached 1,550 in March 2019 *2.
Patent grants outside Japan are in the same situation, and the number of patents in March 2019 was 1,384 *2.
We hold the largest number of patent in the United States, however, our patent in China is increasing nowadays.
We review our patents every year and stop maintaining unnecessary patents. Instead, we increase registration of new patents.
The overall numbers of patent applications and patent evaluations have decreased due to business divisions restructuring, however, our applications for patents and acquisition of rights are active in the ongoing divisions.
*2The number does not include the semiconductor business that was spun off from the SII Group.
Information System for Intellectual Property
SII promotes the establishment of an information system for intellectual property that can be the basis of formulating an intellectual property strategy. This system is linked with SII's intellectual property management system, a survey system for competitors' patents, and even a patent map creation and analysis system, which enables more effective management of intellectual property.
Also, linking with the internal accounting system improves the efficiency of operations associated with intellectual property.
System for Invention for Employee: From Indemnification to Incentive
To encourage inventions and enhance SII's technological competitiveness, we established an indemnification and award system for inventions in FY 1965. In April 2005, this system was revised in line with the amended Japanese Patent Law Article 35. This attractive system motivates individual inventors to obtain upper-level patents.
To further enhance the invention incentive, we also established and have been operating a new incentive system for an inventor with multiple inventions since FY 2009.
The revision of patent law (went into effect in April 2016) provides the option of originally ascribing the rights to a patent from the inventor to the employer. In accordance with this revision, SII shifted the rights to employer, and additionally modified the conventional encouragment system to the incentive system.
Meanwhile, the incentive amount for application and performance results were both increased to encourage further inventions.
Employee Education and Training
We established intellectual property education programs based on the level of each employee's understanding. The education program aims to develop employee knowledge and awareness for developing strong patents and preventing infringement of competitor's patents, as well as enhancing motivation in the area of intellectual property.  
Furthermore, these education programs have been expanded to the employees of the Seiko Holdings Group companies, in addition to SII employees, since FY 2014.
Going forward, we will increase recognition and motivation for intellectual property within the Seiko Holdings Group.  
Support to Intellectual Property-Related Associations
We have been actively supporting intellectual property-related associations which strive to achieve an intellectual property-based nation. SII dispatches committee members and lecturers, and provides comments on proposals from the associations to the Patent Agency, as well as promoting local intellectual property strategies.