Instruments Technology (Johor) Sdn. Bhd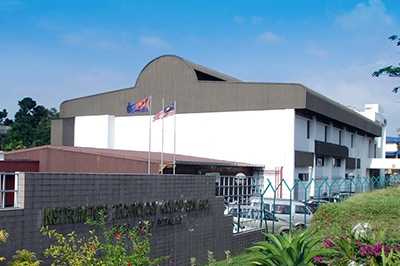 ●

Address

Larkin factory:

No 16, Jalan Petaling, Kawasan Perindustrian Larkin, 80350 Johor Bahru, Johor, Malaysia.

Tebrau factory:

No. 18, Jalan Firma 2, Kawasan Perindustrian Tebrau IV, 81100, Johor Bahru, Johor, Malaysia.

●

Business Lines

Manufacturing of mechanical watch movements and components

●

Establishment

January 1990

●

Number of Employees

1,292 (as of March 31, 2019)

●

ISO14001 Certification Date

October 2002
Site Introduction
Instruments Technology (Johor) Sdn. Bhd (INTECH) was incorporated in May 1989. The Company commenced its manufacturing activities in September 1989 with an initial workforce of about 60 persons. Currently, the company has 2 factories (Larkin and Tebrau) with total workforce around 1100.
INTECH Larkin had been awarded with the ISO 9001 and ISO 14001 certifications since the year 1994 and 2002 respectively. INTECH Tebrau had received ISO 9001 certification in year 2003. Along with the revision of ISO 9001 and ISO 14001, the company updated both certification in 2018. This latest update includes ISO 14001 certification at Intech Tebrau.
Environmental Policy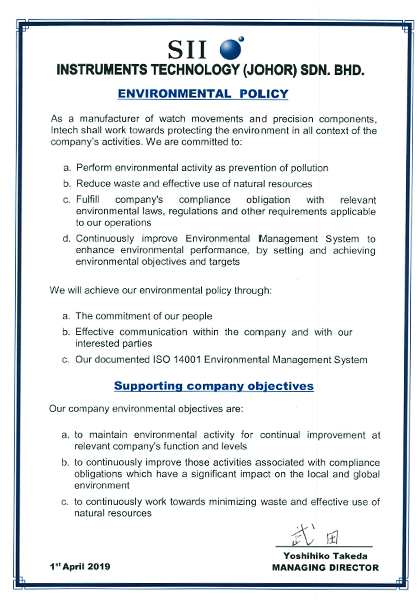 FY2018 Topics
- INTECH hosted the Recycled Art Competition throughout March 2019 for Safety, Health & Environment Month. The goal of the activity was to promote recycling, reducing, and reusing of materials and foster participants' creativity and innovation. The submitted works of recycled art had to include fully recycled or reused materials. There were 36 submissions, which were judged by the management team.
They also set the period from March 20 to 31 as a Recycling Week and conducted an educational activity for all employees. The activity reaffirmed the importance of recycling and the sorting rule, and raised employees' awareness.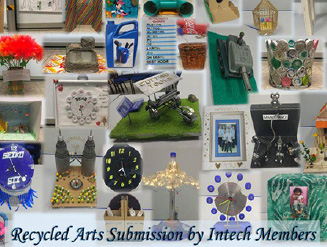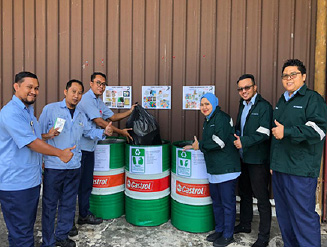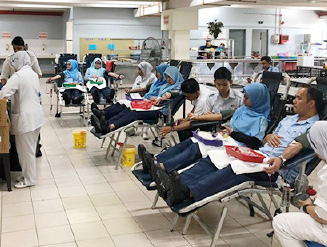 - As part of Safety and Health Month activities carried out by INTECH, employees have been donating blood to the local national hospital since 2013. In FY 2018, 97 employees from Larkin factory and 120 employees from Tebrau factory donated blood.
Environmental performance data (FY2019)