OUTLINE
The chip-type Electric Double Layer Capacitor (EDLC), "CPX3225A" has the industry's lowest internal resistance of 25 Ohms, which is one-third the conventional chip type EDLCs, while keeping its size to the world smallest-class size (3.2 x 2.5 x 0.9mm) yet with large capacity (2.5 – 7.5mF). As electrical storage device and power source device to the growing market of energy-harvesting use case and wireless sensor network systems, etc, the "CPX" series successfully reduced the internal resistance to one-third of the conventional EDLCs, and the leak current to approximately one-tenth, while keeping the world's thinnest and smallest class size.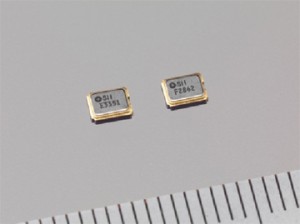 FEATURES
    1. Large discharge current and super rapid charging achieved by low internal resistance
    2. Chargeable by slight power, thanks to low leak curren
     3. Long life span, high reliability 
     4. Small size, large capacity
APPLICATIONS
1. Electric storage device for energy harvesting
2. Power source or Electric storage for Wireless Sensor Network, RFID tag, RF remote control for digital home electrical appliance
3. Power source or Electric storage for Contactless IC card, multi-functional IC card
4. Instant back-up for CPU or DRAM and powers source for saving data on flash memory
SPECIFICATIONS
| | |
| --- | --- |
| Type | CPX3225A752D |
| Max. Use Voltage(V) | 2.6 |
| Capacitance(F) | 0.0075 |
| Internal Impedance(Ω) | 25 |
| Size L x W x H(mm) | 3.2 x 2.5 x 0.9 |
| Weight(g) | 0.024 |
 CHARACTERISTICS
Click to enlarge.