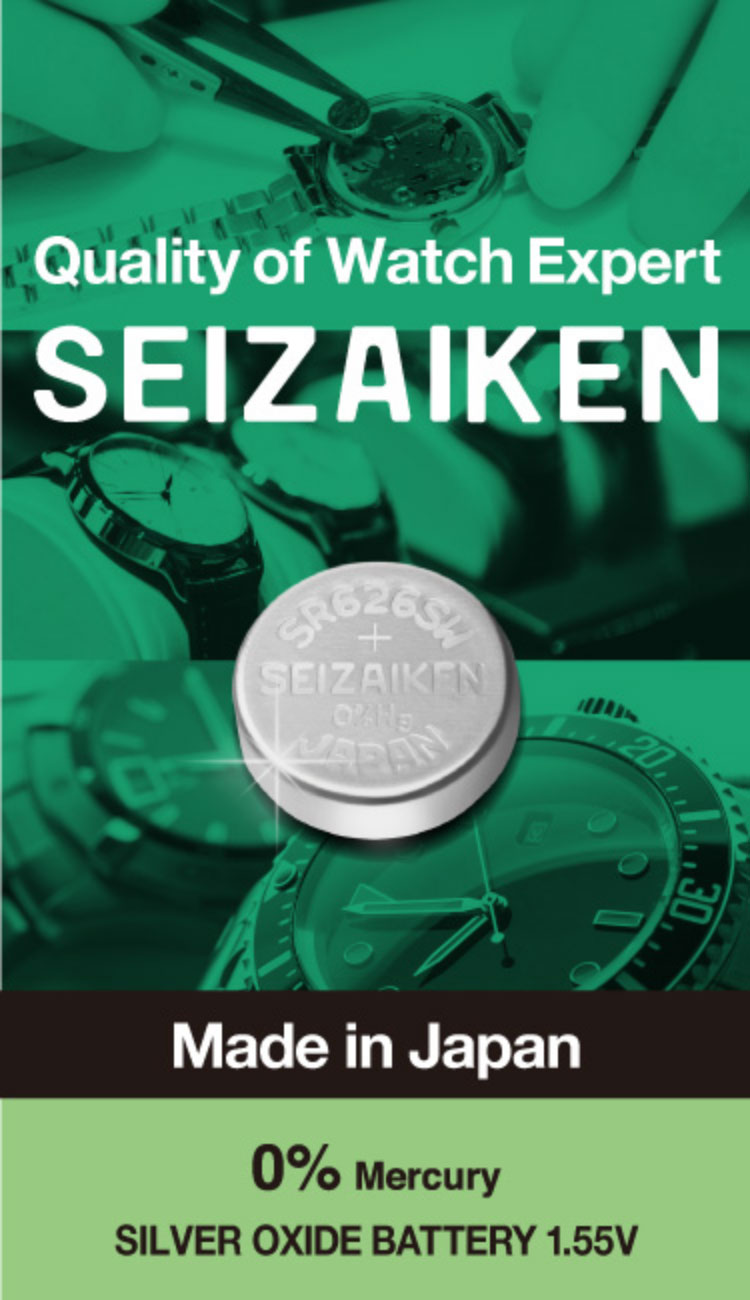 Seiko Instruments has supported the evolution of quartz watches for many years by providing silver oxide batteries and a wide range of other watch components to watchmakers around the world.
精工电子有限公司通过多年来向全球手表厂商供应氧化银电池等各类手表零部件,推动了石英手表的进化。
Seiko Instruments ha contribuído al desarrollo de los relojes de cuarzo por muchos años, suministrando pilas de óxido de plata y una amplia gama de piezas de relojes a los fabricantes de relojes de todo el mundo.
Seiko Instruments ha sostenuto l'evoluzione degli orologi al quarzo per molti anni fornendo le batterie all'ossido di argento e una vasta gamma di altri componenti per orologi agli orologiai di tutto il mondo.
"Seiko Instrument telah mendukung perkembangan jam tangan quartz selama bertahun-tahun, dengan menyediakan baterai perak oksida dan berbagai macam komponen lainnya ke perusahaan jam tangan di seluruh dunia"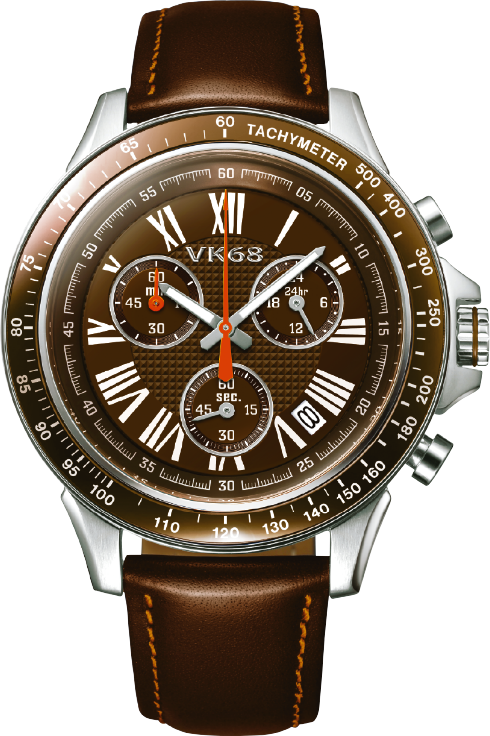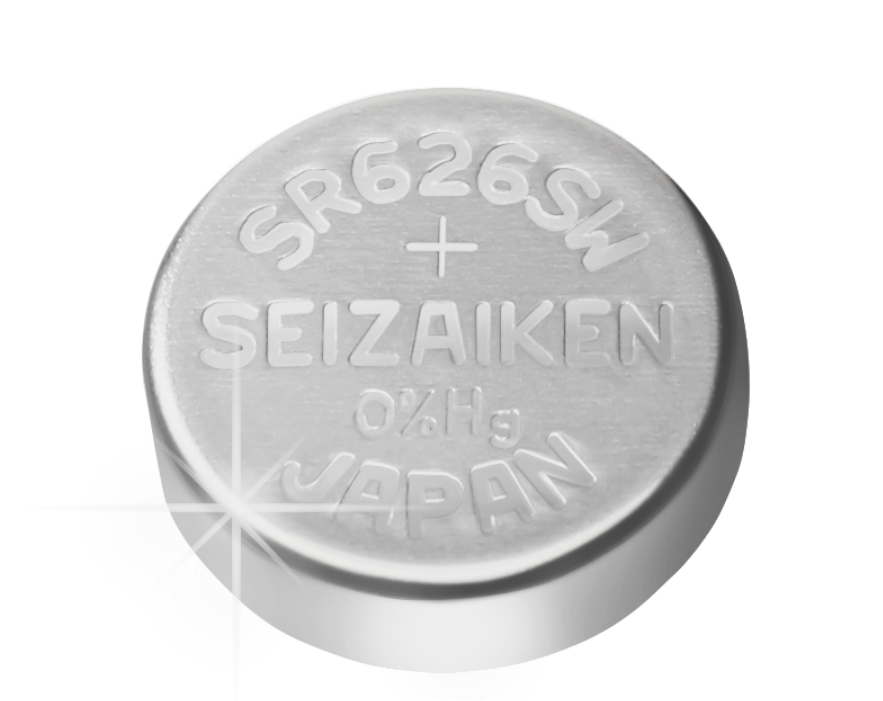 SEIZAIKEN, Seiko Instruments' silver oxide battery, is presented in a comic and in video form.
下面用漫画和视频向您介绍精工电子有限公司出品的手表用氧化银电池"SEIZAIKEN"-精材研。
Presentamos la pila de óxido de plata "SEIZAIKEN" de Seiko Instuments en una historieta tipo manga y un video.
SEIZAIKEN, la batteria all'ossido di argento della Seiko Instruments, è presentata in un fumetto e in video.
Kami memperkenalkan "SEIZAIKEN", baterai perak oksida untuk jam tangan dari Seiko Instruments melalui komik dan video.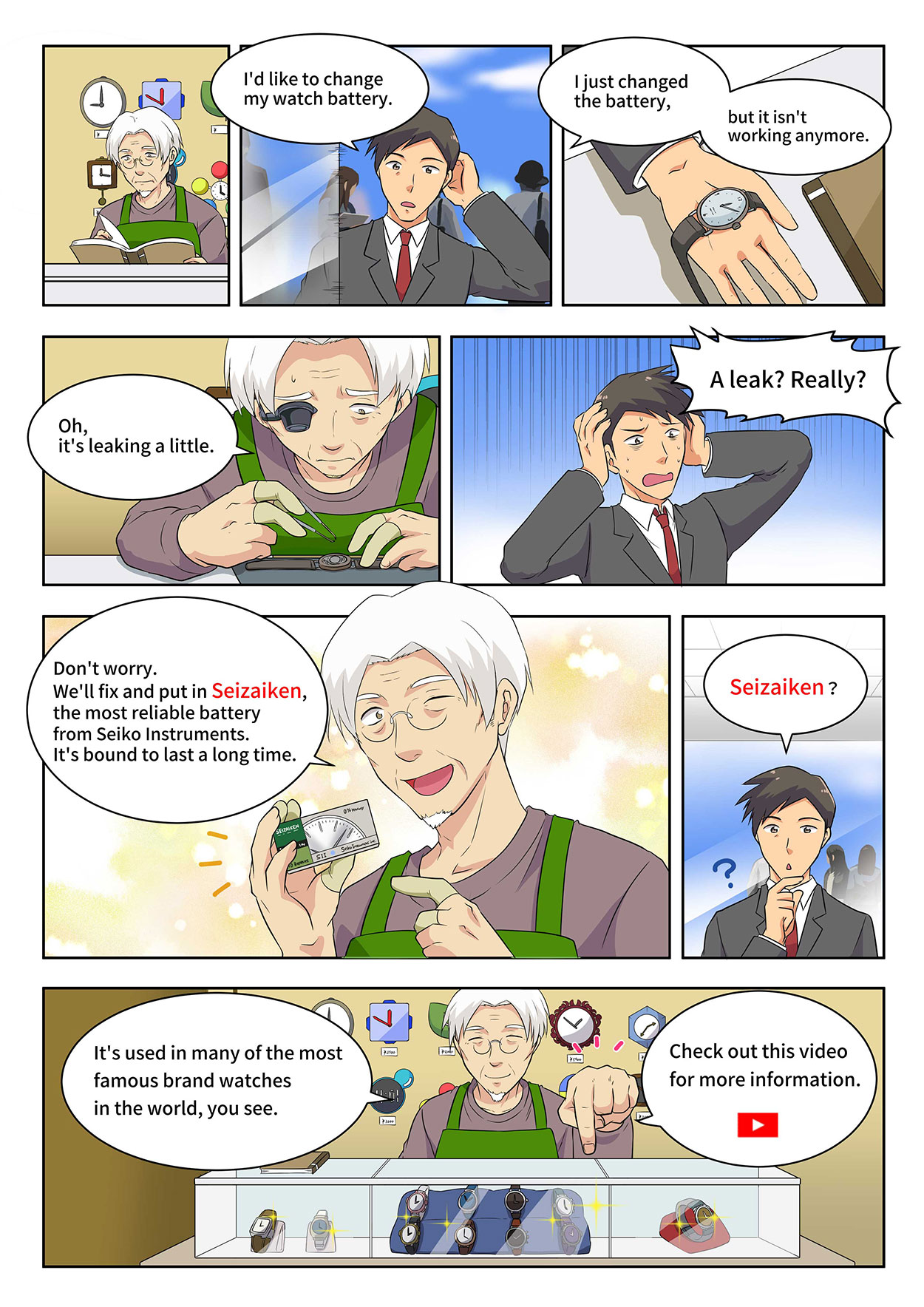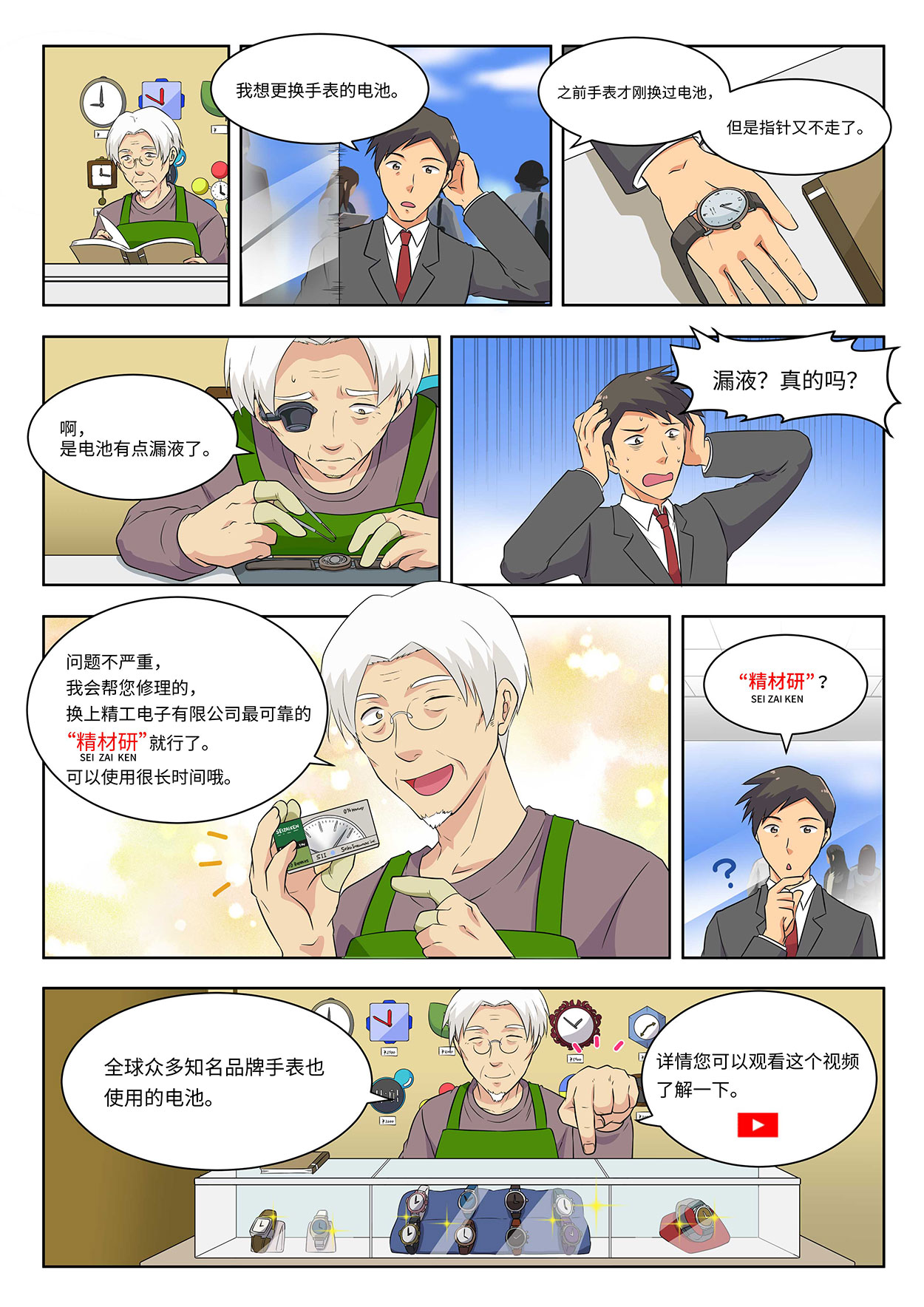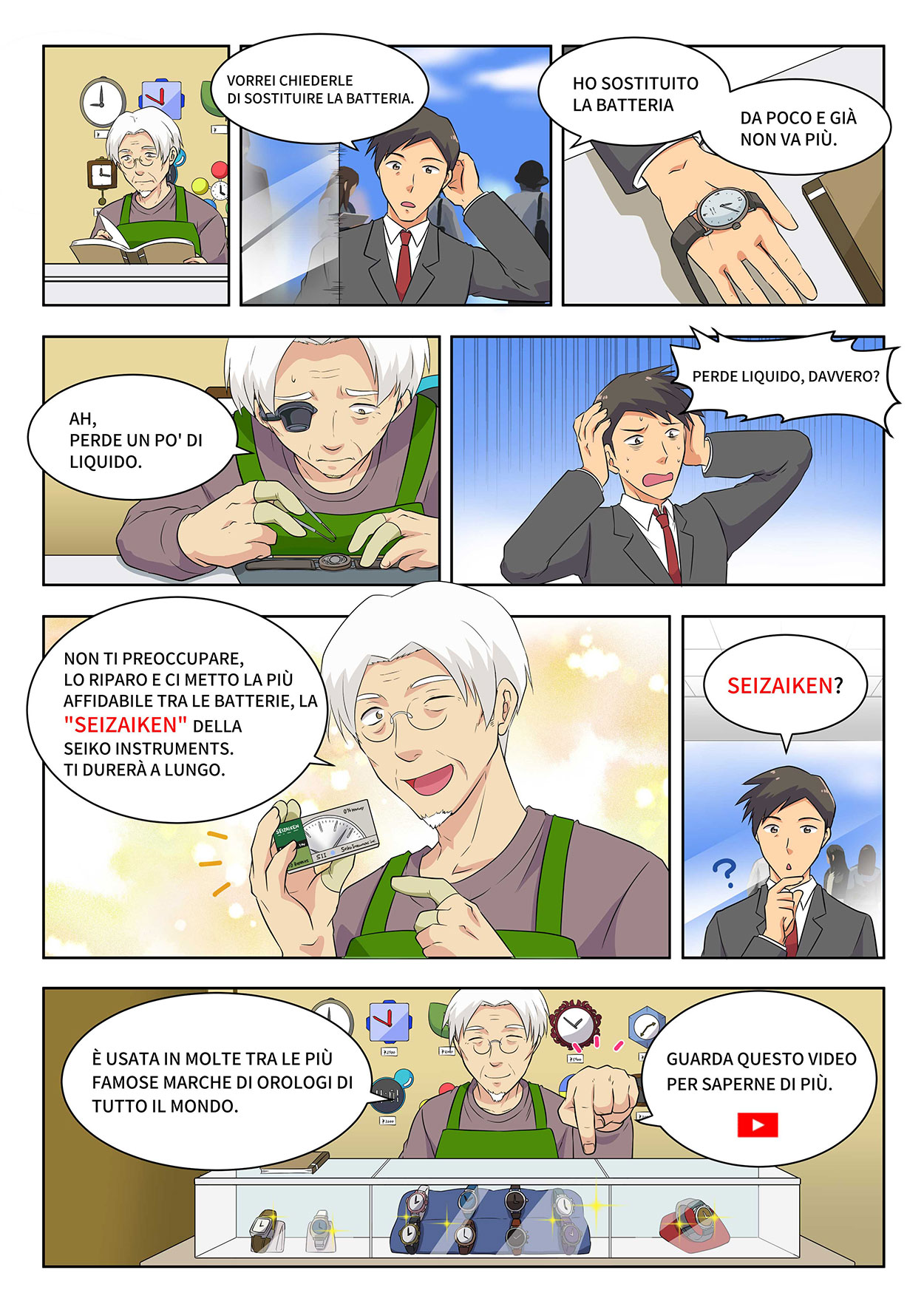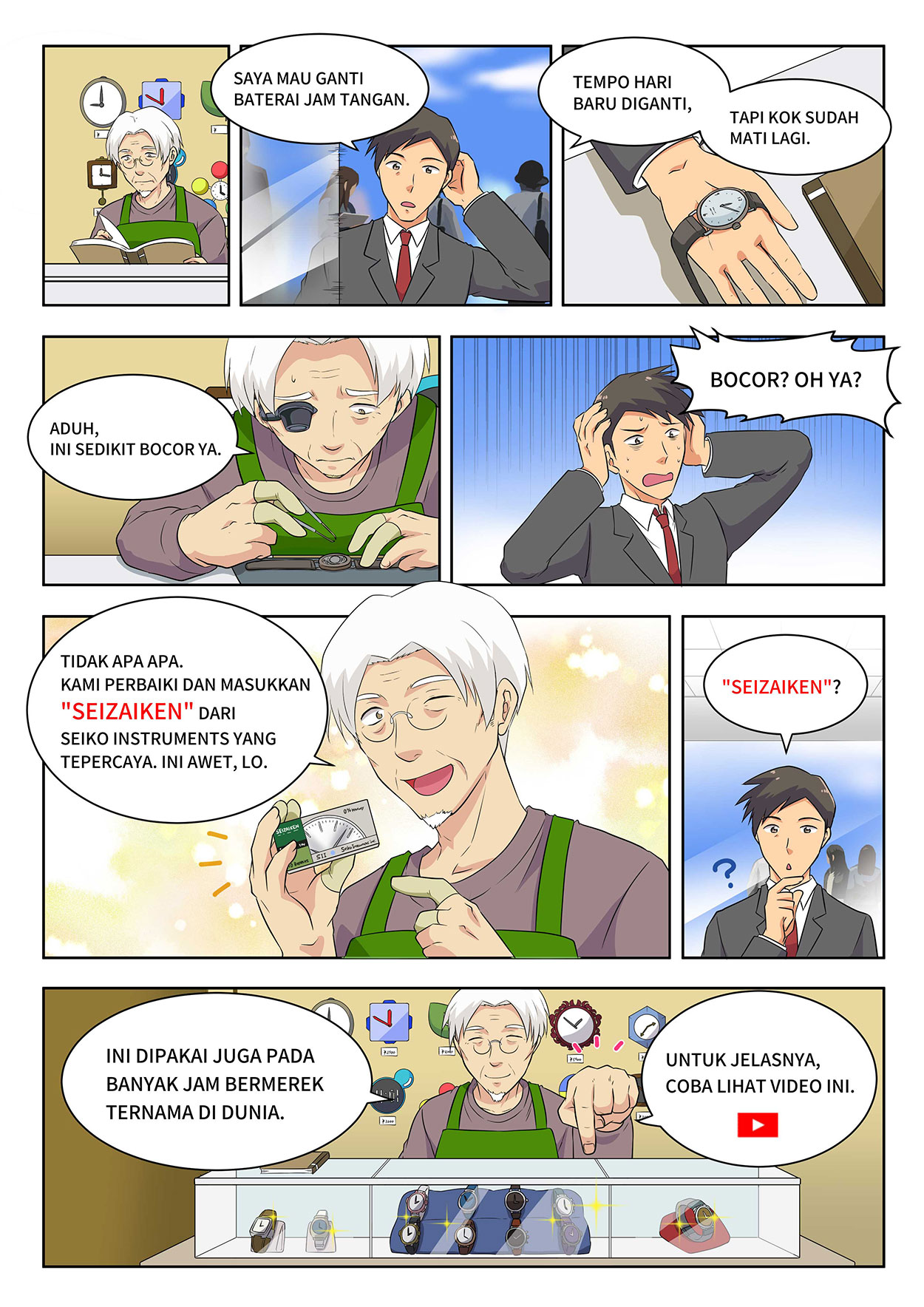 The features of the silver oxide battery "SEIZAIKEN"
"SEIZAIKEN"-精材研的特点
Características de la pila de óxido de plata "SEIZAIKEN"
Le caratteristiche della batteria all'ossido d' argento "SEIZAIKEN"
Ciri khas baterai perak oksida "SEIZAIKEN"
100% Made in Japan
100%日本制造。
100% fabricada en Japón.
Prodotto al 100% in Giappone.
100% buatan Jepang.
Compatible with all kinds of watches, from big to small, from quartz to digital. All of our products are manufactured at our factory in Sendai, located in the Tohoku region of northeastern Japan.
可用于从小型到大型、从石英到数字等各式各样的手表。所有"SEIZAIKEN"电池均由位于日本东北地区的仙台工厂制造完成。
Es compatible con todo tipo de relojes, de pequeños a grandes, de cuarzos a digitales. Todos nuestros productos son elaborados en nuestra fábrica de Sendai, ubicada en la región de Tohoku en Japón.
Compatibile con tutti i tipi di orologi, dal grande al piccolo, dal quarzo al digitale. Tutti i nostri prodotti sono realizzati nella nostra fabbrica di Sendai, situata nella regione di Tohoku nel nord-est del Giappone.
Sesuai untuk berbagai jam tangan mulai dari tipe kecil sampai besar, dari quartz sampai digital. Kesemuanya diproduksi di pabrik kami di Sendai, yang terletak di Tohoku, wilayah timur laut Jepang.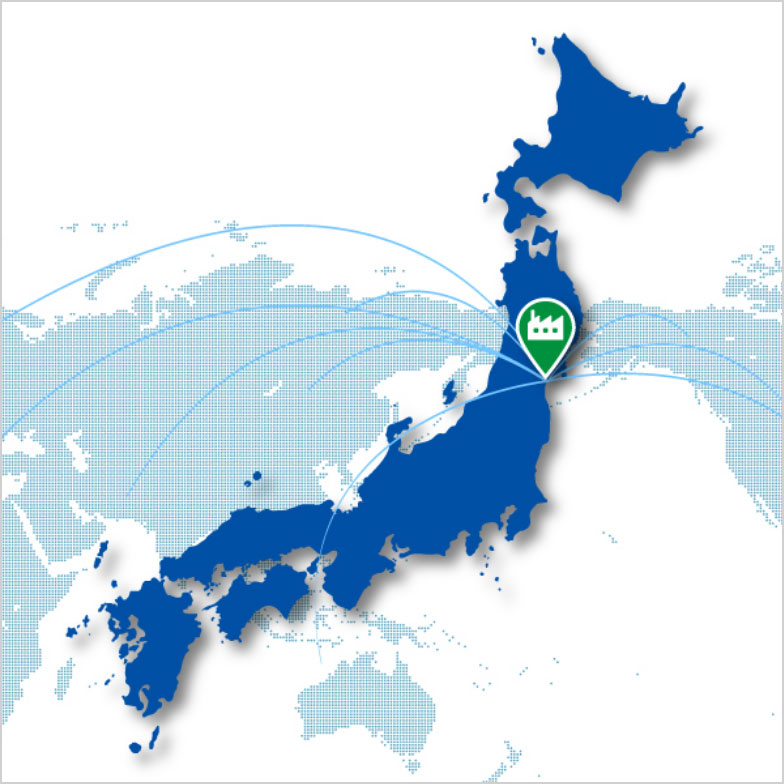 Thorough elimination of contamination.
彻底排除污染。
Eliminación completa de la contaminación.
Completa eliminazione delle contaminazioni.
Penghapusan kontaminasi secara seksama.
We manufacture in a clean environment to ensure no impurities contaminate our products. We have achieved highly pure, long-lasting, reliable battery production.
通过在不含杂质的清洁环境中进行生产,实现了高纯度、长寿命、高可靠性的电池生产。
Fabricamos en un ambiente limpio para asegurarnos de que ninguna impureza contamine nuestros productos. Hemos logrado obtener pilas fiables, duraderas y de gran pureza.
Produciamo in un ambiente pulito per garantire che le impurità non contaminino i nostri prodotti. Produciamo batterie altamente pure, durature ed affidabili.
Produksi dilakukan di lingkungan bersih untuk menjamin tidak tercampurnya kotoran-kotoran. Kami telah mewujudkan produksi baterai dengan kemurnian tinggi, tahan lama, dan dapat diandalkan.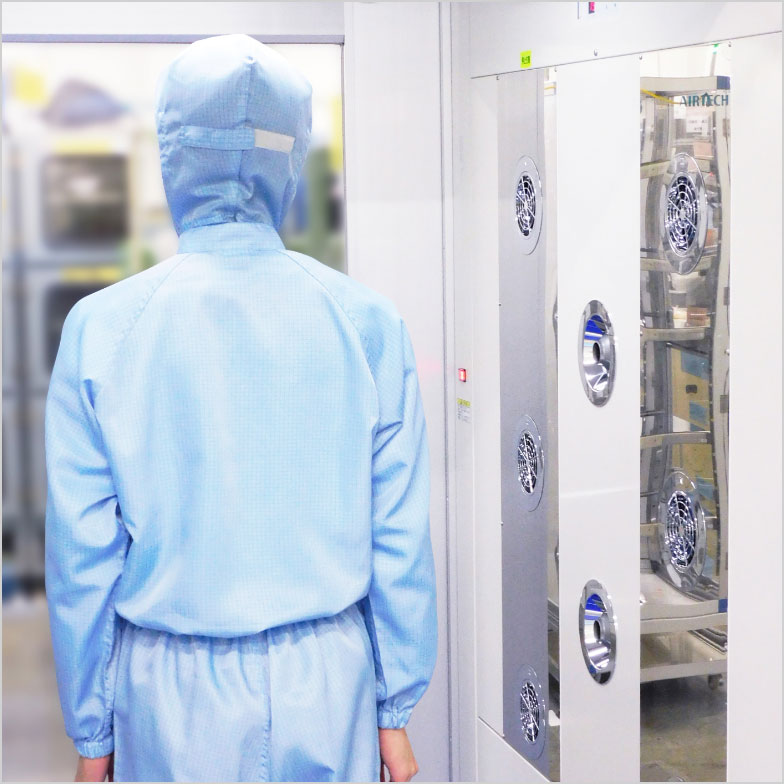 Superior leakage resistance.
优异的抗漏性。
Excelente resistencia a fuga de líquidos.
Eccellente resistenza alle perdite.
Ketahanan bocor yang unggul.
Based on our superior metal processing techniques cultivated over years of watchmaking, we have achieved an airtight seal structure to ensure high leakage resistance.
本公司以多年来在手表生产过程中培育出优秀金属加工技术为基础,实现了具有高密封性的密封结构,从而确保了电池具有高度的抗漏性。
Utilizamos como base nuestra excelente tecnología para el procesamiento de metales, desarrollada durante muchos años en la fabricación de relojes. Hemos conseguido obtener una estructura de sellado altamente hermética que garantiza una alta resistencia a la fuga de líquidos.
Sulla base delle nostre tecniche di lavorazione dei metalli coltivate in anni di produzione di orologi, abbiamo realizzato una struttura ad elevata tenuta ermetica per garantire un'elevata resistenza alle perdite.
Berdasarkan pada teknologi pemrosesan logam yang unggul yang dikembangkan dalam pembuatan jam tangan selama bertahun-tahun, kami berhasil mewujudkan struktur segel kedap udara yang menjamin ketahanan bocor yang tinggi."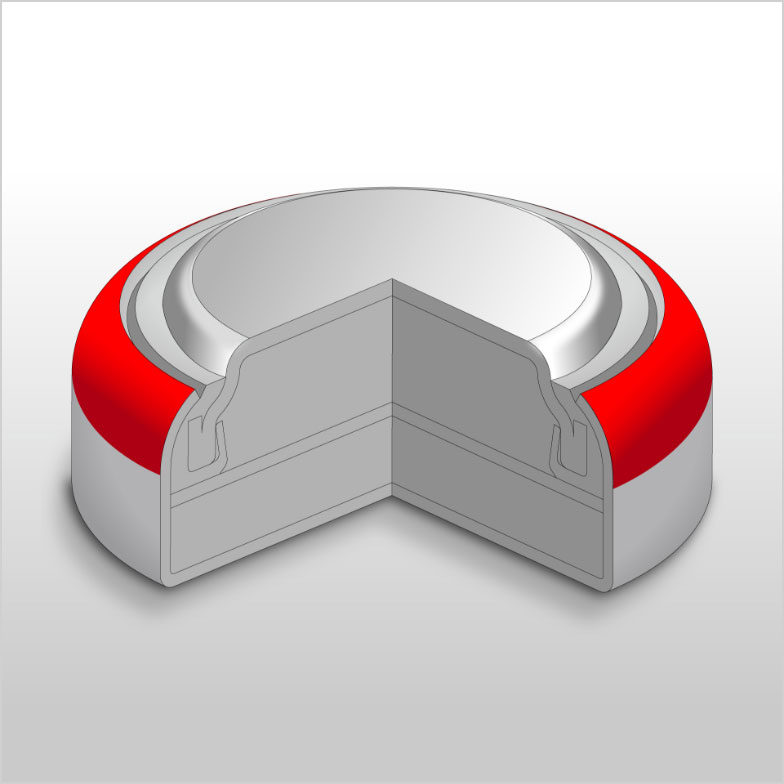 Product Lineup
产品阵容
Línea de productos
Linea di prodotti
Daftar Produk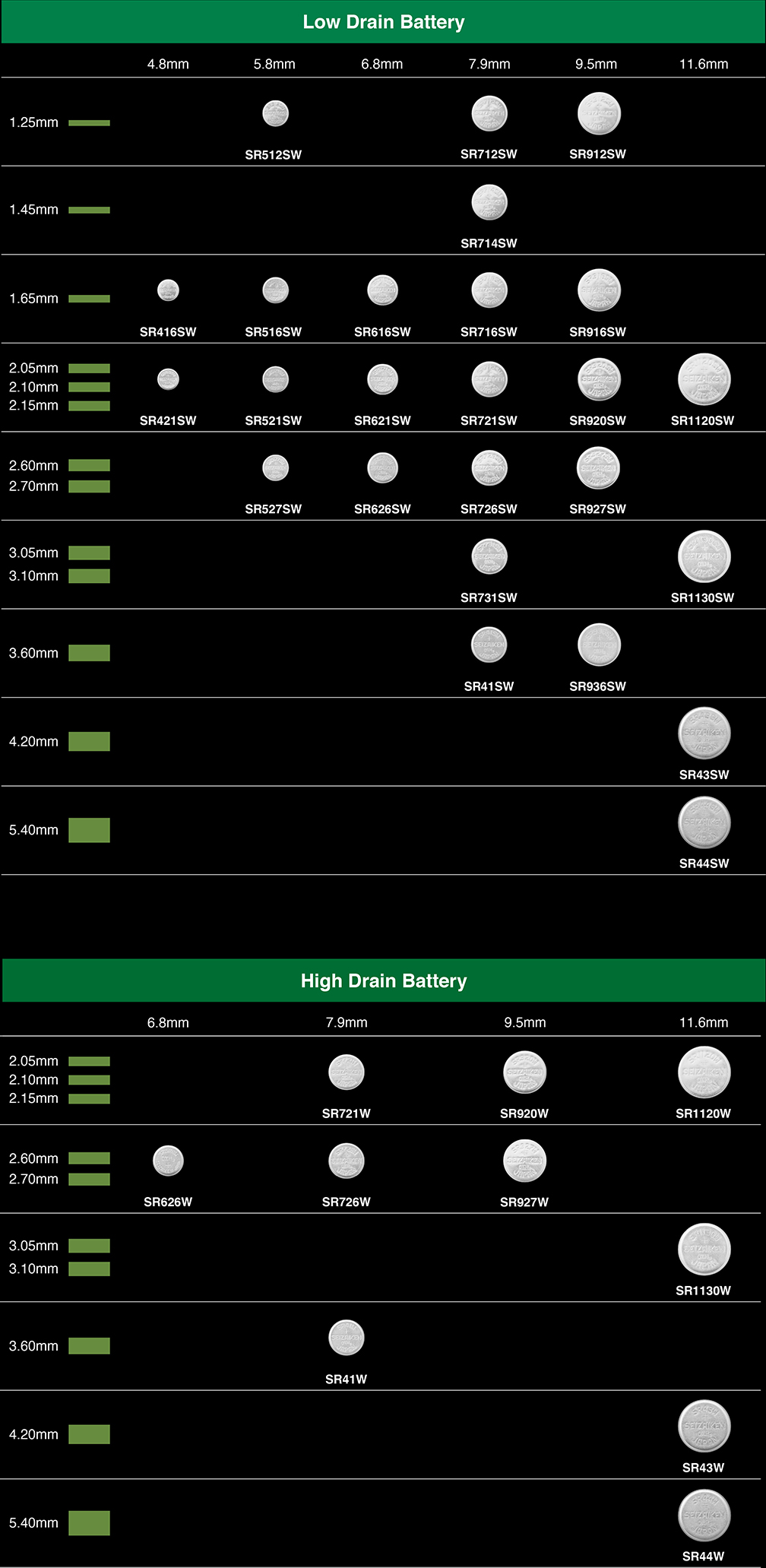 Presenting the New Package
新包装介绍
Presentación del nuevo empaque
Presentazione della nuova confenzione
Mempersembahkan kemasan baru
Bringing our customers around the world high-quality, long-lasting SEIZAIKEN batteries, with a new design for 2021.
自2021年起采用全新包装设计,继续为全球顾客带来高品质、长寿命的"SEIZAIKEN"-精材研电池。
En el 2021 ofreceremos la pila SEIZAIKEN de alta calidad y larga duración a nuestros clientes de todo el mundo con un nuevo diseño.
Portiamo ai nostri clienti in tutto il mondo le batterie SEIZAIKEN di alta qualità e di lunga durata, con un nuovo design per il 2021.
Kami mempersembahkan baterai SEIZAIKEN yang bermutu tinggi dan tahan lama untuk pelanggan di seluruh dunia dengan memperbarui desain mulai tahun 2021.
Single blister

5 tier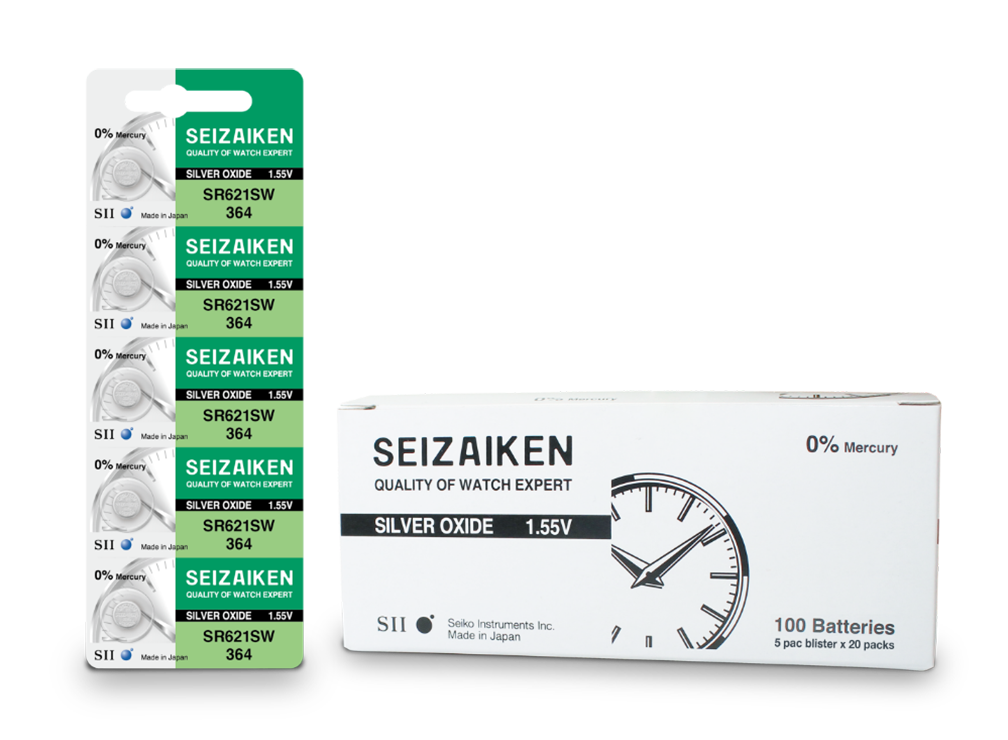 Tool for sales promotions
促销工具
Herramientas para promoción del producto
Strumento per la promozione delle vendite
Alat-alat promosi penjualan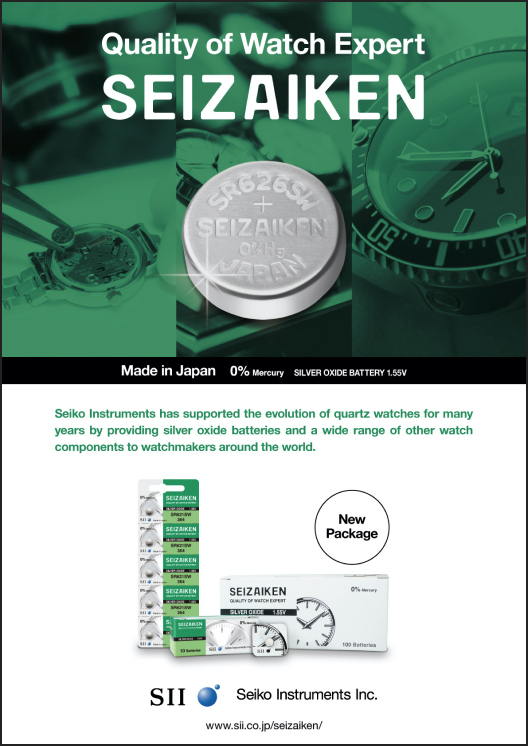 Poster
A2 size (3.4MB)
海报
A2尺寸 (3.4MB)
Póster
en tamaño A2 (3.4MB)
Poster
di formato A2 (3.4MB)
Poster
ukuran A2 (3.4MB)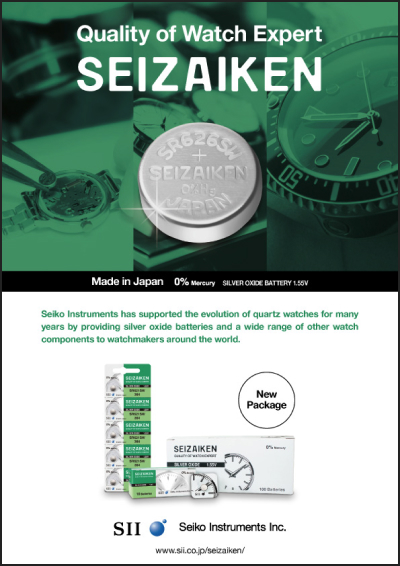 Poster
A4 size (1.4MB)
海报
A4尺寸 (1.4MB)
Póster
en tamaño A4 (1.4MB)
Poster
di formato A4 (1.4MB)
Poster
ukuran A4 (1.4MB)
Please contact us for printable data or banners.
如需打印用数据或横幅,欢迎咨询我们。
En caso requiera data de impresión o de pancartas, contacte con nosotros.
Contattaci per i dati stampabili o i banner.
Hubungi kami untuk mendapatkan data untuk dicetak atau banner.