SPRON510

SPRON is an SII brand name coined from SPRING MICRON.
OUTLINE
"SPRON" is a special metal (Co-Ni alloy) developed for mechanical watch springs, through collaboration with the Institute for Materials Research, Tohoku University.
It has the excellent characteristics of high elasticity, durability, corrosion resistance, and heat resistance allowing to be used in wide-range of fields, including medical materials, small precision springs, as well as springs for watches.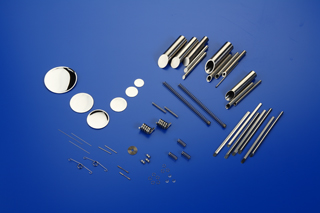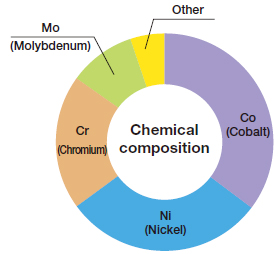 FEATURES
SPRON 510 is a strain age-hardening type Co-Ni-Cr-Mo alloy with material characteristics that are more advanced than SPRON 100.
It is non-magnetic and features ultra high elasticity and high mechanical strength, as well as high durability and heat resistance.
APPLICATIONS
Diaphragms and pipes for mass flow controllers
Parts for pressure sensors (diaphragms and pipes)
Corrosion-resistant, precision processed parts
Precision parts for medical equipment
Precision springs (coils, torsion springs, flat springs, disc springs)
BASIC CHARACTERISTICS
| | |
| --- | --- |
| Tensile strength | ~2940MPa (~300kg/mm2) |
| Stiffness | ~5684MPa (~580kg/mm2) |
| Elongation | 3.00% |
| Hardness | Hv.~ 800 |
| Density | 8.5 ~ 8.7g/cm3 |
| Young's modulus | 216 ~ 225GPa (22~23X103kg/mm2) |
| Modulus of rigidity | 83.3GPa (8.5X103kg/mm2) |
| Linear expansion coefficient | 12 ~13X10-6/°C (20 ~ 50°C) |
| Electrical resistivity | 98 ~ 100µΩ-cm |
| Intensity of magnetization | 0 (5KOe) |
(Wire drawriing material: cold processing + age treatment)