MS Lithium Rechargeable Battery
SPECIFICATIONS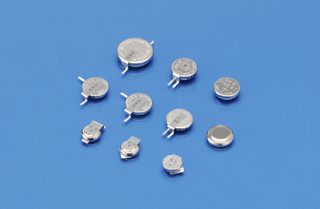 OUTLINE
MS (Manganese Silicon) lithium rechargeable batteries, developed by Seiko Instruments Inc., use silicon oxide as the anode and a lithium manganese composite oxide as the cathode. As a result, they offer long cycle life and highly stable overdischarge characteristics.
FEATURES
Large discharge capacity :
For high operational voltage range of 3.3V to 2.0V.
Long cycle life :
Cycle life of over 100 cycles (over 50 cycles for MS414GE) under charge/discharge
conditions of 3.1V to 2.0V (D.O.D.100%).
Excellent overdischarge characteristics :
Continued stable capacity characteristics even after the
battery is overdischarged down to 0.0V.
Operation over a wide temperature range:
Operating temperature range : −20ºC to +60ºC
Consult us for using the battery at a temperature beyond
the above temperature range.
Operating temperature range of the new product MS920T / MS621T is  -40ºC to +85ºC
Approved by UL (Underwriters Laboratories Inc.)
UL File No. MH15628
Battery is not applied to RoHS Directives.  Our battery products do not contain any substances restricted by RoHS Directive.
APPLICATIONS
Backup power supply for memory or clock function in various types of electronic equipment for mobile communication, office automation, audio-visual equipment, mobile information equipment, etc. (cellphone, PHS, cordless phone, pager, memory card, fax machine, PC, video camera, digital camera, tuner, handy terminal, PDA, etc.)
Hybrid power supply in combination with solar cells.
Main power supply for small and slim portable equipment.