OUTLINE
The chip-type Electric Double Layer Capacitor (EDLC), "CPM3225A" is the world smallest-class size (3.2 x 2.5 x 0.9mm) with large capacity 11.5mF, low internal impedance 80 Ω.
The unique ceramic packaging with superior air-tightness is used. As a result, it offers leakage resistance and humidity resistance.
CPM3225A is suitable for power source device in the growing market of wireless sensor network systems, etc.
Note: The CPM3225A has polarity. Please ensure that the positive and negative polarity is in the correct direction.
FEATURES
    1. Reflowable
     2. Height less than 1mm 
     3. Long life span, high reliability 
     4. Small size, large capacity
APPLICATIONS
1. Power source or Electric storage for Wireless Sensor Network, RFID tag, RF remote control for digital home electrical appliance
2. Power source or Electric storage for Contactless IC card, multi-functional IC card
SPECIFICATIONS
| | |
| --- | --- |
| Type | CPM3225A |
| Max. Use Voltage(V) | 2.6 |
| Capacitance(F) | 0.0115 |
| Internal Impedance(Ω) | 80 |
| Size L x W x H(mm) | 3.2 x 2.5 x 0.9 |
| Weight(g) | 0.024 |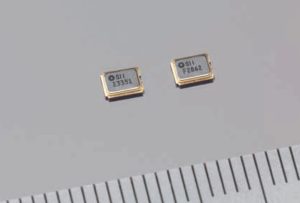 CHARACTERISTICS
Under Construction