Seiko Instruments Inc. (SII) announced the release of the S-19500/19501 series LDO voltage regulator with an easily-controlled watchdog timer and reset function that simplifies implementation. The new regulators are optimized for use in constant-voltage power supply for automotive electric components and microcontroller monitoring.
Traditionally, external monitoring has been required for microcontroller safety, and it has complicated circuit designs and increased the number of components when designing circuits with single-function ICs. The new S-19500/19501 series is capable of not only meeting the requirements by integrating a LDO regulator, reset IC, and watchdog timer into one chip, but also simplifies the software interface making the watchdog timer control easier. Load current from the internal LDO regulator automatically turns on/off the watchdog timer, preventing unnecessary monitoring during the microcontroller's sleep mode. In addition, a WEN pin can forcibly turn on/off the watchdog timer until the system is stabilized during the microcontroller startup or during software update without using external circuits. This innovative design by SII allows customers to simplify design and software, reduce component count, and save space.
SII's unique laser-trimming technology has achieved output voltage accuracy of +/-2.0% and detection voltage accuracy of +/-100mV over temperature. Also, a single capacitor is needed for adjusting both the reset release delay time and the watchdog timer monitoring time. The reduced number of pins has made a small 8-pin HSOP-8A package (5.02×6.0×1.68 mm) a reality.
Customers can select the S-19501 series that has a reset output pin separate from the watchdog output pin. The output voltage is selectable from 3.0 V to 5.3 V in 0.1 V steps. The operating temperature range is -40 to +125 degree C and the maximum rating is 45V. AEC-Q100 (Automotive Electronics Council reliability stress test) and PPAP (Automotive Production Parts Approval Process) qualification are currently in process.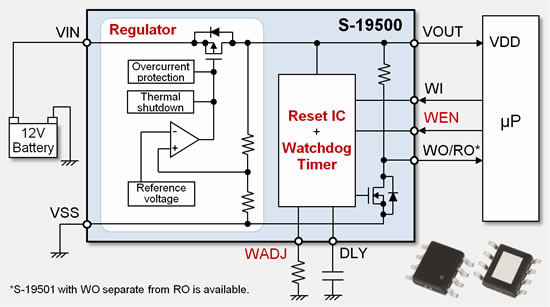 Detailed information
http://datasheet.sii-ic.com/en/voltage_regulator/S19500_19501_E.pdf
Please visit
English: http://www.sii-ic.com/en/
About Seiko Instruments Inc. (SII)
http://www.sii.co.jp/en/
---
Contact Information Press ContactCorporate Communications Dept. Seiko Instruments Inc.
Online Inquiry FormProduct InquiryIC Sales Dept. Seiko Instruments Inc.
TEL: +81-43-211-1193
The content of this news release is based on the information as of the release date. Please note that the content may not be always up-to-date.