Seiko Instruments Inc. (SII) is pleased to announce that it is expanding its lineup of chip-type Electric Double Layer Capacitor (EDLC). The products are CPX10080C104F (hereinafter, "CPX104"), CPZ10080C104F (hereinafter, "CPZ104") , and CPX10080C402F(hereinafter, "CPX402"). CPX104 has the lowest in class internal impedance of 0.5 ohm, and CPZ104 at 1.5 ohm, providing a very small leak current lower than 10 nA.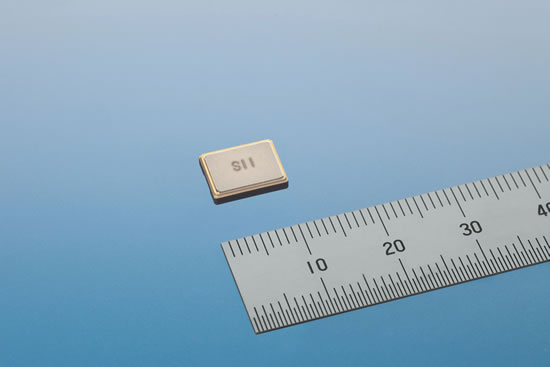 CPX104, CPZ104 and CPX402 are small reflowable, chip-type EDLCs that offer very low internal impedance, realizing high discharge current of about several hundred mA. Furthermore, a superior air-tight ceramic package assures its long term reliability.
 SII succeeded in reducing leak current (self-discharge) to lower than10 nA as well as the internal impedance for CPX104 and CPZ104. They can be sufficiently charged by several micro watts of slight electromotive force from energy harvesting devices. As for CPX402, it is a super rapid charging type EDLC which can increase voltage in a short period of time.
【Features】
1. Large discharge current and super rapid charging achieved by low internal resistance
By reducing the internal impedance to 0.5 ohms / 1.5 ohms, the new chip-type EDLCs allow discharge current of up to several hundreds of mAs. The super rapid charging type, CPX402 is able to charge within a few seconds.
2. Small leak current lower than 10n A (CPX104 and CPZ104)
CPX104 and CPZ104 can be sufficiently charged with several micro watts from energy harvesting devices due to he small leak current.
3. Long life span, high reliability
Superior air-tight ceramic package reduces storage deterioration in high temperature / high humidity environments, assuring long term reliability.
4. Reflowable, small and thin
The chip-type design makes it possible to reflow when it is applied in the mass production. The size is 10.0mm x 8.0 mm x 1.9 mm.
 【Specifications Overview】
| | | | | | |
| --- | --- | --- | --- | --- | --- |
| Part number | Maximum Use Voltage(Continuous) | Capacitance | Internal Impedance(Typical)(ESR) | Size (LxWxH) | Weight (g) |
| CPX10080C104F | 2.5V | 100mF |  0.5Ω |  10.0×8.0x1.9mm | 0.45g |
| CPZ10080C104F | 3.3V | 100mF |  1.5Ω |  10.0×8.0x1.9mm | 0.45g |
| CPX10080C402F | 2.5V | 4mF |  0.5Ω |  10.0×8.0x1.9mm | 0.45g |
【Suggested Applications】
1. Electric storage device for energy harvesting
2. Power source or electric storage for wireless sensor network, RFID tag, RF remote control for digital home electrical appliances
3. Power source or electric storage for contactless IC card, multi-functional IC card
4. Instant back-up for CPU or DRAM and power source for saving data on flash memory
5. Power backup of instantaneous battery detachment caused by mechanical shock
6. Battery power assist during instant large current draw
【Samples】
 Samples are available from August 2015.
【Production】
 Mass production is scheduled to commence in July 2016.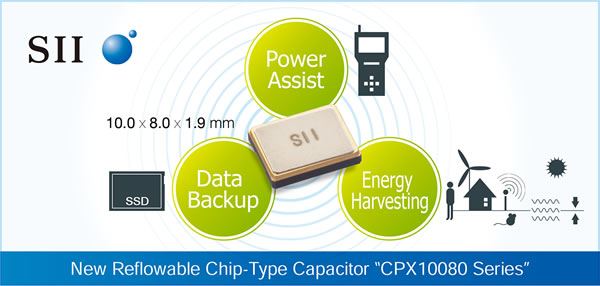 以上
---
Contact Information Press ContactCorporate Communications Dept. Seiko Instruments Inc.
Online Inquiry FormProduct InquiryMicro Energy Sales. Seiko Instruments Inc.
https://krs.bz/sii/m/battery_inq_en
TEL: +81-43-211-1735
http://www.sii.co.jp/en/me/
The content of this news release is based on the information as of the release date. Please note that the content may not be always up-to-date.