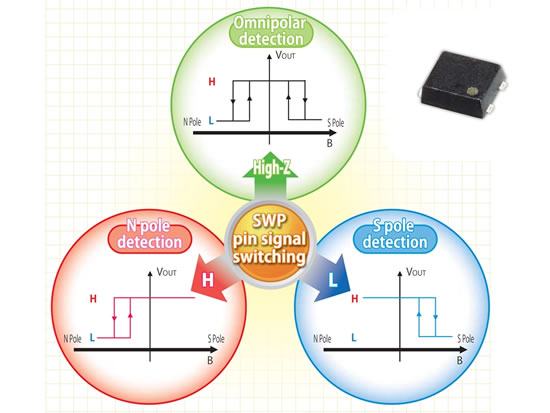 SII Semiconductor Corporation, a subsidiary of Seiko Instruments Inc., introduces the S-5718 series of Hall effect switch ICs that allow switching between omnipolar detection, N pole detection and S pole detection on a single IC. SII has now begun taking orders for the series. When used in combination with a microcontroller, the S-5718 can identify the polarity of nearby magnets, allowing design engineers greater flexibility when designing open / close detection for smartphones, tablets, or other devices needing this function.
The new S-5718 series of products are Hall effect switch ICs capable of omnipolar and single-pole detection. The product is equipped with three types of detection capabilities: a type that detects both poles (both S pole and N pole), a type that detects only S pole, and a type that detects only N pole. When there is no input to the SWP pin (High-Z), omnipolar detection is enabled. High input voltage to the SWP pin switches to N pole detection, while low input voltage switches to S pole detection. This, when combined with a microcontroller, allows the polarity of nearby magnets to the identified. By detecting the polarity of magnets it is possible to switch operations, determine accessory types, or respond in other ways.
The S-5718 is among the best in the industry for low voltage operation down to 1.45V. The product has also been equipped with a wide hysteresis component that can obtain stable output results even in environments where magnetic distances are susceptible to change. The series is available in the super small SNT-4A (1.6 × 1.2 × 0.5mm) package.
Sales Target
Annual sales of two million units for FY2017
Data Sheet
http://datasheet.sii-ic.com/en/hall_ics/S5718_E.pdf
About SII Semiconductor Corporation
SII Semiconductor Corporation, a semiconductor manufacturer in Seiko Instruments Group, offers analog semiconductor products such as Power Management ICs, EEPROMs, Sensors, Timer ICs, Amplifiers and ASSPs; featuring small size, low current consumption and high accuracy.

http://www.sii-ic.com/en/
---
Contact Information Press ContactCorporate Communications Dept. Seiko Instruments Inc.

Online Inquiry FormProduct InquirySales Division. SII Semiconductor Corporation

TEL: +81-43-211-1193
After January 5, 2018, please contact ABLIC Inc. (https://www.ablicinc.com)
The content of this news release is based on the information as of the release date. Please note that the content may not be always up-to-date.