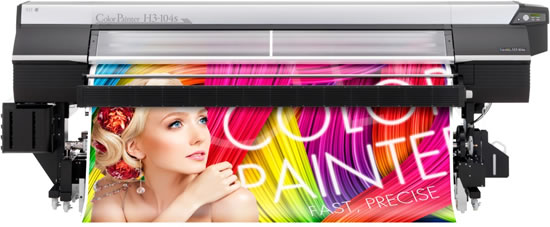 Japan, September 01, 2015 – Seiko I Infotech Inc. (SIIT) announces the addition of a new printer, called "ColorPainter H3-104s," to its ColorPainter product portfolio for worldwide distribution including the Japanese market.
The new ColorPainter H3-104s offers 104-inch (2,462mm) wide-format printing in 8 colors, with speeds up to 56.6m²/h (609 sfph). The high-speed printing capability of the H3-104s was developed specifically to address the growing demand for high productivity from the signage and indoor graphics markets.
The ColorPainter H3-104s is the widest inkjet printer among SIIT's ColorPainter product line. It includes the low-odor eco-solvent SX inks which have already earned a good reputation as part of the ColorPainter M-64s for providing rich, bold colors that last longer outdoors. The H3-104s also inherits the product concept of "Color On Time – Fast, Precise and Reliable." It delivers unmatched productivity and quality while reducing the impact on the environment, thanks to the integration of advanced technology to maximize the performance of SX inks.
The ColorPainter H3-104s will be sold through SIIT channel partners worldwide, and began shipping from Japan in Summer 2015.
ColorPainter H3-104s will be exhibited at Visual Impact Melbourne 2015 (17-19 September) on our Australian distributor booth -DES Pty Ltd (http://www.des-pl.com.au/).
Key Features of the New ColorPainter H3-104s Printer:
1. Low-odor & High-speed SX Inks
SX inks support both low-odor and high-speed printing. It boasts the highest print speed of sellable image quality in its class. It also offers an industry-leading, 3-year outdoor durability (*1) without lamination. SX inks have gained recognition for high-density printing of backlit applications, providing consistent light blocking and fine details in shadow areas.
2. 8-Color Ink Set
The 8-Color (Y, M, C, K, Lc, Lm, Gray, and Light Gray) model provides real monochrome printing with no color shift, and offers smoother gradations in color prints.
3. Automatic Printer Calibration
This new function uses an optical sensor to calibrate the printer automatically when new media is loaded. Just run the auto-print adjustment and start printing in maximum quality.
4. Smart Pass Technology 4 (SP4)
SIIT's proprietary banding reduction function has evolved one step further. SP4's new dot control algorithm controls ink flow and mixing to generate ideal dot size on each media, resulting in superior image quality. This makes the printer perfect for both indoor and outdoor applications and effectively eliminates banding at high speeds in each print mode, without compromising overall image quality.
5. Smart Nozzle Mapping 2 (SNM2)
A new dot control algorithm has upgraded the performance of the Smart Nozzle Mapping function found in the H3-104s, hiding missing nozzles better when clogs occur.
6. Safe Scanning System (SSS)
SSS minimizes the damage on the print surface due to the print heads touching the media. You can choose from four scanning modes according to your needs. When contact between the print heads and the media is detected, you can quickly pause the job, correct the media, and then resume the print job without print job cancelation. That reduces wasted time, ink and media.
7. Dynamic Dot Printing Technology (DDP)
DDP controls and optimizes dot size and density to make consistently rich, bold and glossy colors and to accentuate fine details. DDP facilitates faster high-density print modes than that of competitors, resulting in high productivity of backlit prints with quality that is unmatched.
8. Remote Communication Function
CP Manager Software, the bundled controller software that comes free with every ColorPainter, can now notify an operator by an email or Twitter (*2) message. CP Manager can be operated directly from a PC, tablet or cell phone and now communicates in more ways to keep you informed about what the printer is doing. It also allows the operator to remotely control and initiate operations.
9.Large-Capacity Ink Bags & Sub-Cartridges
Large- capacity (1.5-liter) ink bags and sub-cartridges support continuous high-volume printing. Sub-cartridges allow you to replace ink on the fly without interrupting print jobs.
10. Mesh and Double-sided Printing
Mesh printing (option) and double-sided printing can support a wide range of applications.
*1 Note: Outdoor durability is based on the results of SIIT's accelerated weathering test,and may be changed by printing environment. SIIT does not guarantee outdoor durability.
*2 Note: Twitter is a trademark of Twitter, Inc.
SIIT is committed to offering a comprehensive portfolio of professional graphic printers to its worldwide customer base.
About Seiko I Infotech Inc.
Seiko I Infotech Inc. (SIIT) is a leading company in wide-format printing technology, and is a subsidiary company of Seiko Instruments Inc. (SII), headquartered in Chiba, Japan. SIIT develops and manufactures precision-engineered wide-format printing systems specifically for the sign, graphics, CAD, and GIS markets that provide industry-leading productivity and image quality. SIIT and its worldwide network of authorized distributors and dealers, provides complete printing solutions including wide-format printers, inks, media, software, installation, support, knowledge and training.
---
Contact Information Press ContactCorporate Communication Dept. Seiko Instruments Inc.
Online Inquiry FormProduct InquirySales Promotion, Seiko I Infotech Inc. TEL: +81-47-392-2082
Website: http://www.seiko-i.com/
The content of this news release is based on the information as of the release date. Please note that the content may not be always up-to-date.