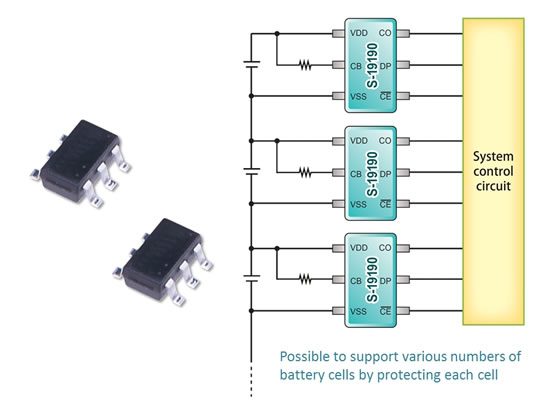 SII Semiconductor Corporation, a subsidiary of Seiko Instruments Inc. that manufactures semiconductor products, announces the release of the S-19190 Series automotive EDLC (Electric double-layer capacitor) protection IC with cell-balancing and overcharge protection functions. Typical applications include EDLC modules and rechargeable battery modules.
The S-19190 Series protect EDLC cells by detecting overcharge conditions and through cell-balancing which levels the voltage in each individual EDLC cell. Conventional EDLC protection ICs are only able to control a fixed number of cells, whereas the S-19190 Series offers an industry first capability and flexibility to protect any number of cells the design calls for. This flexible design approach allows for optimal circuit configuration for a multitude of applications.
As the automotive industry continues to expand EV and FCV power offerings the use of EDLC has been rapidly expanding. The EDLC function allows for improved efficiency and design flexibility for high current design requirements such as engine restart during idle stop, storage of regenerative energy during braking (by converting kinetic energy during deceleration into harvested stored electrical energy), and to manage sudden or instantaneous system voltage drop. Each EDLC cell must be balanced in order to not deteriorate when connecting multiple EDLCs to generate higher voltage. The S-19190 Series can control multiple EDLCs efficiently, while still maintaining a small footprint with the SOT-23-6 package (2.8 x 2.9 x 1.3mm).
The S-19190 Series can be used in the demanding automotive environment through the rigorous automotive manufacturing process employed and optimized through years of experience by SII Semiconductor Corporation. The cell balancing voltage is selectable from 2.0 V to 4.6 V in 5 mV steps, the overcharge detection voltage is selectable from 2.0 V to 4.6 V in 5 mV steps, and the current consumption is an impressive 2.0μA max. at +25°C. Also AEC-Q100 is in process, and PPAP is available upon request.
Data Sheet
http://datasheet.sii-ic.com/en/automotive_battery_protection/S19190_E.pdf
About SII Semiconductor Corporation
SII Semiconductor Corporation, a semiconductor manufacturer in Seiko Instruments Group, offers analog semiconductor products such as Power Management ICs, EEPROMs, Sensors, Timer ICs, Amplifiers and ASSPs; featuring small size, low current consumption and high accuracy.
http://www.sii-ic.com/en/
---
Contact Information Press ContactCorporate Communications Dept. Seiko Instruments Inc.
Online Inquiry FormProduct InquirySales Division. SII Semiconductor Corporation
TEL: +81-43-211-1193
After January 5, 2018, please contact ABLIC Inc. (https://www.ablicinc.com)
The content of this news release is based on the information as of the release date. Please note that the content may not be always up-to-date.