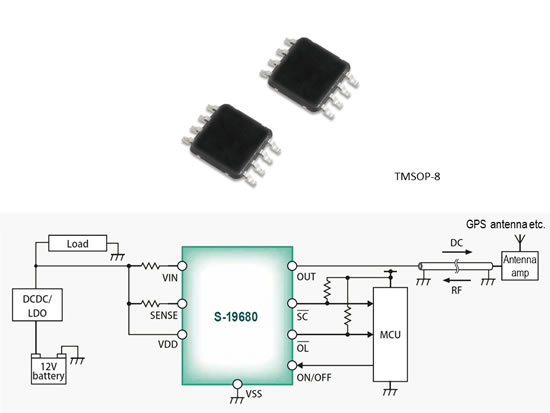 SII Semiconductor Corporation, a subsidiary of Seiko Instruments Inc., announces the release of the S-19680 Series high side switches with current monitor function that allow for simplified connection diagnosis of GPS antennas and other automotive applications. These new high side switches can detect open, normal, and short-circuit conditions. Target applications include remote LNA phantom power for GPS antennas including ADAS locator, vehicular communication systems / road-vehicle communication systems, e-call, car navigation systems, car audio systems, and Infotainment systems.
GPS antennas require continuous monitoring and diagnosis to determine whether the antenna is connected or disconnected. Conventional circuit designs using discrete components are complex and the mounting area is large. The S-19680 is a compact and easy to use IC for antenna connection status diagnosis. The S-19680 Series provides the design engineer with a robust, accurate, and off-the-shelf solution to simplified diagnosis of antenna connection status with the added benefit of minimized board space.
The S-19680 Series receives the ON / OFF signal from the MCU and controls the power supply to the antenna amplifier accordingly, while also allowing for load current monitoring. An alert signal output is available for detection of open or short-circuit status of the load current.  This function allows for connection status even in light-load applications down to load open detection current of 2.5mA. Additionally, there is a load limit circuit that is user selectable between 40mA and 100mA in 10mA increments. Load short-circuit detection is based on the user selected limit current x 0.3 and limit current x 1.0 (selectable in 0.1 step). Load open detection is selectable between 2.5mA and 30mA in 2.5mA increments. The S-19680 Series offers a wide power supply voltage range of 2.7V to 10.0V, an ultra low operation current consumption of 12 μA typical. The package is TMSOP-8. AEC-Q100 is in process and PPAP is available upon request.
Data Sheet
http://datasheet.sii-ic.com/en/automotive_antenna_diagnosis_ic/S19680_E.pdf
About SII Semiconductor Corporation
SII Semiconductor Corporation, a semiconductor manufacturer in Seiko Instruments Group, offers analog semiconductor products such as Power Management ICs, EEPROMs, Sensors, Timer ICs, Amplifiers and ASSPs; featuring small size, low current consumption and high accuracy.
http://www.sii-ic.com/en/
---
Contact Information Press ContactCorporate Communications Dept. Seiko Instruments Inc.
Online Inquiry FormProduct InquirySales Division. SII Semiconductor Corporation
TEL: +81-43-211-1193
After January 5, 2018, please contact ABLIC Inc. (https://www.ablicinc.com)
The content of this news release is based on the information as of the release date. Please note that the content may not be always up-to-date.