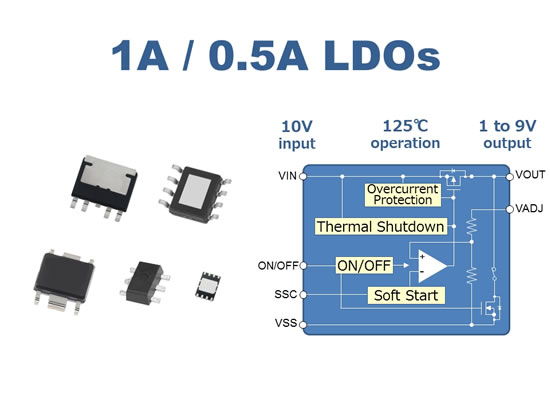 SII Semiconductor Corporation, a subsidiary of Seiko Instruments Inc., launches the S-19244 / S-19243 Series LDO Regulators in May, 2016. The S-19244 / S-19243 Series offers multiple options including soft-start function as well as high temperature operation of 125°C. This new LDO series has a 10V input as well as options for 1A and 0.5A output current capability. The target applications includes engine ECUs, body ECUs, meters, automotive use cameras, car navigation, car audio, and automotive infotainment systems.
The S-19244 / S-19243 Series allows the design engineer to make optimal design choices from eight product types and five packages available as standard products. The product combinations and options include soft-start (fixed/adjustable time), discharge shunt (with/without), pull-down resistor (with/without), and output voltage either fixed or externally set. The series is available in a wide range of packages including high dissipation package options and super small package options: TO-252-5S, HSOP-8A, HSOP-6, SOT-89-5, HSNT-8(2030).
In recent years, advanced driver assistance systems (ADAS) require multiple cameras which need a power supply of under 10V. The S-19244 / S-19243 Series is a perfect fit for this type of application. The soft-start function allows for a stable input voltage prior to device startup which improves the reliability of the device by suppressing the potential for excess inrush current and subsequent output voltage overshoot. In addition a high accuracy ±2.3% output voltage is guaranteed over temperature. AEC-Q100 is in process and PPAP is available upon request.
Data Sheet
S-19244 Series (Output current 1A)
http://datasheet.sii-ic.com/en/automotive_voltage_regulator/S19244xxxA_E.pdf
S-19243 Series (Output current 0.5A)
http://datasheet.sii-ic.com/en/automotive_voltage_regulator/S19243xxxA_E.pdf
About SII Semiconductor Corporation
SII Semiconductor Corporation, a semiconductor manufacturer in Seiko Instruments Group, offers analog semiconductor products such as Power Management ICs, EEPROMs, Sensors, Timer ICs, Amplifiers and ASSPs; featuring small size, low current consumption and high accuracy.
http://www.sii-ic.com/en/
---
Contact Information Press ContactCorporate Communications Dept. Seiko Instruments Inc.
Online Inquiry FormProduct InquirySales Division. SII Semiconductor Corporation
TEL: +81-43-211-1193
After January 5, 2018, please contact ABLIC Inc. (https://www.ablicinc.com)
The content of this news release is based on the information as of the release date. Please note that the content may not be always up-to-date.