Seiko Holdings Corporation
Seiko Instruments Inc.
Seiko Watch Corporation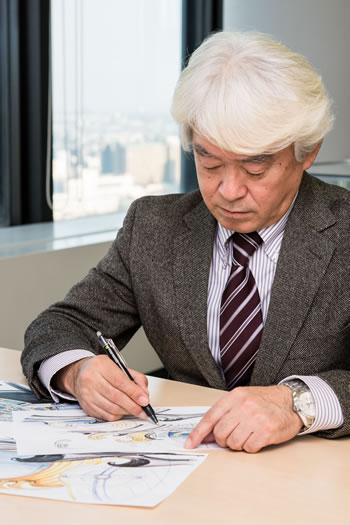 Watch designer at Seiko Instruments Inc. Nobuhiro Kosugi was recently chosen as a winner of the Medal with Yellow Ribbon. Seiko Instruments Inc. (President: Hitoshi Murakami, Head Office: Chiba-shi, Chiba; hereinafter "SII") is a group company of Seiko Holdings Corporation (President: Yoshinobu Nakamura, Head Office: Minato-ku, Tokyo.) alongside Seiko Watch Corporation, (President and CEO: Shinji Hattori, Head Office: Minato-ku, Tokyo).
With experience in watch design spanning about forty years, Nobuhiro Kosugi's career has focused primarily on developing designs for the mechanical models of the luxury Grand Seiko watch brand,
Kosugi has developed a uniquely Japanese design style built around a simple watch face. His creations may look simple, but they are full of subtlety created expressions by light and shadow and they have an attractive universality that has never gone out of style. Thanks to his long familiarity with every watch manufacturing process and every metal processing technique, Kosugi incorporates design elements such as polished stainless steel, precious metal parts and highly reflective surfaces to make watches that offer comfort, a stylish appearance when worn and are crafted for many years of use.
Kosugi has also made an important contribution to communicating the excellence of Japanese manufacturing overseas. In addition to winning three Good Design Awards, Kosugi designed the watch that won the 'Petite Aiguille' award at the 2014 Geneva Watchmaking Grand Prix, one of the most prestigious awards in the watch industry. It was the first time that a mechanical wrist watch from Japan had been feted in this way.
Working together with two other SII craftsmen, Kiyoshi Terui, the master of engraving, and Sakurada Mamoru, the master of assembly and adjustment (both winners of the Medal with Yellow Ribbon and the Contemporary Master Craftsman Award), as well as with craftsmen skilled in traditional Japanese techniques such as lacquerware, cloisonné enamel, Kosugi develops luxury watch designs that embody a unique Japanese aesthetic. Involved in developing new methods of expression in addition to incorporating traditional techniques in his designs, by bringing the skills of craftsmen to a higher level, Kosugi helps develop, broaden and improve the skills and know-how of craftsmen working in the Japanese watch industry.
The Medal with Yellow Ribbon will be given in recognition of his outstanding achievements and diligent hard work over many long years. Seiko is delighted and proud to congratulate Kosugi on this most prestigious award.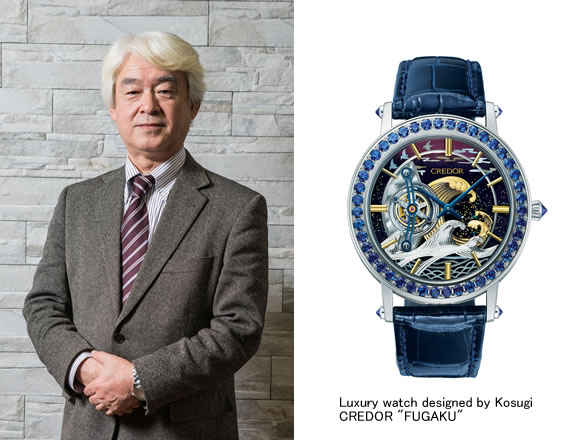 [Nobuhiro Kosugi's Career Summary]

1952 Born in Kanagawa, now 63 years old
1973 Hired into design section at Hayashi Seiki Seizo Co., Ltd.
1982 Established KG Industrial Design Studio, engaged in SII watch design (part-time )
1993 Joined Seiko Instruments & Electronics Ltd. (presently Seiko Instruments Inc.)
2001 Seiko Flight Master (SBDS001) wins "Good Design Award"
2010 Grand Seiko (SBGR051) wins "Good Design Long Life Design Award"
2012 Grand Seiko (SBGH005) wins "European Watch of the Year Award" in "Watch World Magazine"
2014 Grand Seiko (SBGJ005) wins "La Petite Aiguille" at "Geneva Watchmaking Grand Prix"
2014 Receives "Contemporary Master Craftsman Award"
---
Press Contact:
Seiko Holdings Corporation
Public Relations Department
Tel: +81-3-6739-9002(*from May 23: +81-3-3564-4078)
Seiko Instruments Inc.
Corporate Communications Department
Tel: +81-43-211-1185
Seiko Watch Corporation
Public Relations & Advertising Dept.
Tel: +81-3-6739-2150 (*from May 6: +81-3-3564-4597)
The content of this news release is based on the information as of the release date. Please note that the content may not be always up-to-date.