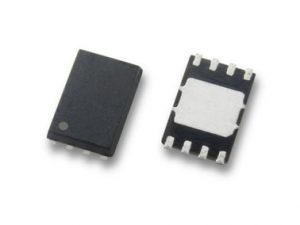 SII Semiconductor Corporation, an affiliate of Seiko Instruments Inc., released the S-93CxxCD0H Series (105˚C) and the S-93AxxBD0A Series (125˚C), new automotive 3-wire (Microwire) serial EEPROM products available in the ultra-small HSNT-8 package (2030) (2.0×3.0×t0.5 mm).  With an industry-leading write speed of 4ms (max.) and low voltage operation down to 1.6V, the S-93CxxCD0H Series (105˚C) is suitable for a wide range of applications. 
With in-vehicle electronic options on the increase, more and more serial EEPROMs are being used in throughout the automotive industry. Due to the increased electronic content in automobiles there is a need for space savings parts due to the limited space available. Commonly used leadless small packages have always posed issues in areas such as mounting strength and automatic visual inspections, compared to outer-lead package options.  This new family of products solves these issues by allowing for easy mounting, outstanding mounting strength, and mounting visual inspection with the introduction of the HSNT-8 (2030) package.  Another key feature is that the HSNT-8 is a drop-in replacement (same land pattern) as the commonly used leadless 8-pin DFN package.
Both models will be available in a range of memory densities, from 1K, 2K, 4K and 8K to 16K (bit). The package options include 8-pin SOP, 8-pin TSSOP, TMSOP-8 and HSNT-8 (2030) (2.0×3.0×t0.5 mm).
At the same time, the company releases the new S-93CxxCx0I Series which is a consumer version with 85˚C operating temperature and is targeted for applications including home appliances, wearable technology and healthcare devices.
Products will provide outstanding performance, reliability and quality, underpinned by SII's track record in non-volatile memory dating back more than 25 years. SII has a strong reputation in this area, built on a leading share of the automotive serial EEPROM market (in-house figures).
About SII Semiconductor Corporation
SII Semiconductor Corporation, a semiconductor manufacturer in Seiko Instruments Group, offers analog semiconductor products such as Power Management ICs, EEPROMs, Sensors, Timer ICs, Amplifiers and ASSPs; featuring small size, low current consumption and high accuracy. 
http://www.sii-ic.com/en/
---
Contact Information Press ContactCorporate Communications Dept. Seiko Instruments Inc.
Online Inquiry FormProduct InquirySales Division. SII Semiconductor Corporation
TEL: +81-43-211-1193
After January 5, 2018, please contact ABLIC Inc. (https://www.ablicinc.com)
The content of this news release is based on the information as of the release date. Please note that the content may not be always up-to-date.