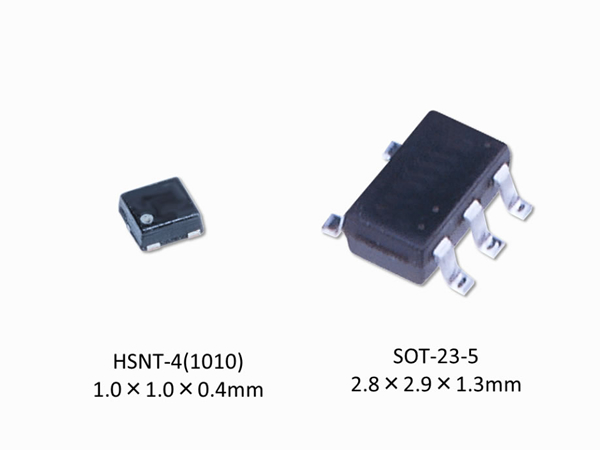 SII Semiconductor Corporation, an affiliate of Seiko Instruments Inc., manufactures and sells semiconductors. In November 2016, SII Semiconductor Corporation will release the S-1317 Series of LDO voltage regulators that have the world class low current consumption of 350 nA. The S-1317 Series of LDO voltage regulators is ideal for wearable, IoT and all devices needing the longest battery life possible. The S-1317 Series of LDO voltage regulators is capable of 100 mA output current, ultra-low dropout voltage of 20 mV, and offers high accuracy voltage regulation of +/- 1%. The S-1317 Series is available as a standard product in 0.05 V output voltage increments, and comes with built-in overcurrent protection. The new regulators are available in both the HSNT-4 (1010) package (1.0 × 1.0 × 0.4 mm) and SOT-23-5 package (2.9 × 2.8 × 1.3 mm). The S-1317 is ideally suited for the market demands of extended battery life and smaller end product size.
Features:
– Output voltage : Selectable between 1.0 V and 3.5 V in steps of 0.05 V.
– Input voltage : 1.5 V to 5.5 V
– Output voltage precision : ±1.0% (1.0-V to 1.45-V output models: ±15 mV)
– Dropout voltage : 20 mV typ. (2.5-V output models, IOUT = 10 mA)
– Operating current : 0.35 μA typ.
– Output current : Up to 100 mA
Data Sheet:
http://datasheet.sii-ic.com/en/voltage_regulator/S1317_E.pdf
Image Available:
http://datasheet.sii-ic.com/images/S-1317.jpg
About SII Semiconductor Corporation
SII Semiconductor Corporation, a semiconductor manufacturer in Seiko Instruments Group, offers analog semiconductor products such as Power Management ICs, EEPROMs, Sensors, Timer ICs, Amplifiers and ASSPs; featuring small size, low current consumption and high accuracy. 
http://www.sii-ic.com/en/
---
Contact Information Press ContactCorporate Communications Dept. Seiko Instruments Inc.
Online Inquiry FormProduct InquirySales Division. SII Semiconductor Corporation
TEL: +81-43-211-1193
After January 5, 2018, please contact ABLIC Inc. (https://www.ablicinc.com)
The content of this news release is based on the information as of the release date. Please note that the content may not be always up-to-date.