Seiko Instruments Inc.
July 1st, 2019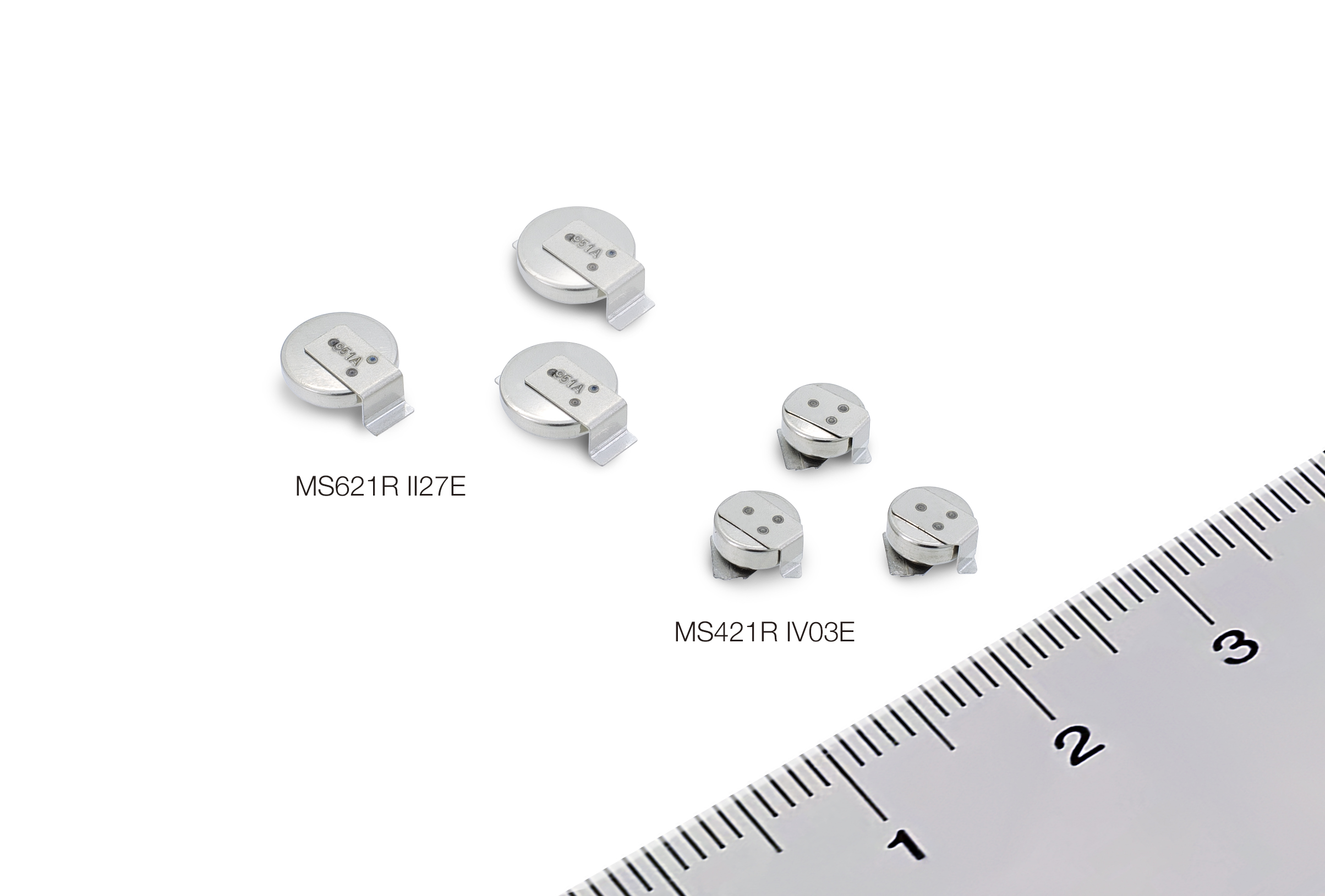 Seiko Instruments Inc. (SII) (head office: Chiba City, Chiba; President: Tetsu Kobayashi) today announced the development of manganese-silicon (MS) lithium rechargeable batteries MS621R and MS421R enabling reflow mounting in the mounting process. Samples of MS621R are scheduled to be available in August 2019 and MS421R in October 2019.
*1 Based on SII's research of MS (manganese-silicon) type lithium rechargeable batteries, as of the end of June 2019.
1. Background of development
There is a continued growing need for electronic components to be reflowable to improve production efficiency and make product quality more consistent and stable. With this background, SII has developed reflowable rechargeable batteries.
SII's conventional reflowable ML (manganese lithium-aluminum alloy) type rechargeable battery has been adopted by many customers. SII has now succeeded in developing reflowable MS lithium rechargeable batteries with higher voltage, larger capacity and superior cycle characteristics. These new products will contribute to customers' mounting efficiency.
2. Product Features
(1) Reflowable
Automatic mounting and reflow soldering to printed circuit boards (PCBs) will enhance soldering efficiency, shorten production lead time and make product quality consistent and stable.
(2) Higher voltage
Compared to SII's ML type lithium rechargeable battery (3.1V), MS621R and MS421R can be charged up to a maximum of 3.3V and allow more flexibility in the circuit design.
(3) Larger capacity
The capacity of MS421R and MS621R has been increased by 1.5 times and 3 times respectively compared to that of SII's ML type lithium rechargeable battery.
(4) Superior cycle characteristics
Capacity degradation of MS621R and MS421R after repeated deep charge and discharge cycles is less than that of SII's ML battery. This characteristic provides benefits to customers' various types of usage.
3.Main Specification
 
MS621R
MS421R
ML414H (for reference)
Maximum Charge Voltage
3.3 V
3.3 V
3.1 V
Nominal Capacity
3.0 mAh
1.5 mAh
1.0 mAh
Internal Impedance
400Ω
600Ω
600Ω
Operating Temperature Range
-20℃~+60℃
Diameter
6.8 mm
4.8 mm
4.8 mm
Height
2.1 mm
2.1 mm
1.4 mm
Weight
0.24g
0.10 g
0.07g
4. Main Applications
-Backup power for real time clock
-Power supply for memory retention function
5. Future
SII will continue preparing for mass production targeted for autumn 2019.
These products will be exhibited at SII's booth in CEATEC JAPAN 2019 from October 15 to 18.
About Seiko Instruments Inc. (SII)
SII, a major subsidiary of Seiko Holdings Corporation (TOKYO:8050), develops, manufactures and sells watch movements, crystal oscillators, micro batteries, inkjet print heads, thermal printers, etc.
http://www.sii.co.jp/en/
---
Contact Information:
Media Contact
pr@sii.co.jp
Corporate Communications Section, Seiko Instruments Inc.
Product Inquiry
micro-energy@sii.co.jp
Electronic Components Sales Head Office, Seiko Instruments Inc.
The content of this news release is based on the information as of the release date. Please note that the content may not be always up-to-date.