Core Values and Charter of Corporate Behavior
The SII core values, "Integrity, Trust and Appreciation" represent the basic stance of our relationship with society and our stakeholders. SII strives to stand as a company that society and our stakeholders need and trust, all through the ages.
The SII Group's Corporate Social Responsibility (CSR) is at the very root of these core values. We established the SII Group Charter of Corporate Behavior to express our strong will as a company bearing expectations to help create a sustainable society.
Core Values and Corporate Identity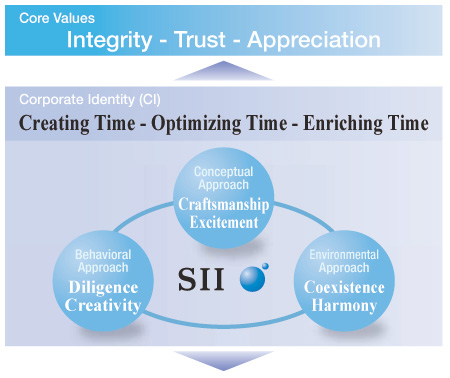 The SII Group Charter of Corporate Behavior
(Established in October 2005, Revised in April 2011)
The SII Group is committed to pursuing its affairs ethically and lawfully. This Charter of Corporate Behavior establishes policies and procedures intended to secure our position as an entity that honors its responsibilities to contribute to the economic development of society and seeks to serve as a needed and trusted part of society at all times. The SII Group companies and their employees are committed to providing value to all group stakeholders, as well as to society at large, fulfilling their social responsibilities based on a strong ethical sense and contributing to the creation of a more sustainable society.
<Article 1.> Providing value
We are committed to enhancing our technologies, creating new value, and producing safe, socially useful, and high-quality products and services that strengthen satisfaction and trust among our customers.
<Article 2.> Approaching corporate activities with fairness and integrity
In addition to compliance with all applicable laws and regulations, we accurately manage all types of information, including personal and customer data, and pursue our corporate activities with ethics, fairness and integrity.
We maintain a sound relationship with governmental and administrative authorities and take a rigorous, resolute position against antisocial forces that pose a threat to social order or security.
<Article 3.&gt Human rights and human resource development
We respect the diversity and the human rights of all our employees and seek to achieve safe, comfortable working conditions. We facilitate and support the advancement and growth of each employee and endeavor to ensure all employees the fair evaluation and treatment.
We respect the human rights and individuality of all stakeholders in our business activities.
We strive to develop a creative, professional human resources characterized by a strong ethical sense.
<Article 4.> Creating harmony with the environment
Recognizing that environmental issues affect all of us, we focus intently on resolving such issues and initiate proactive measures to avoid burdening the public.
<Article 5.> Establishing a constructive coexistence with society
We communicate openly with society and promote the appropriate disclosure of company information to become a more open enterprise.
As good corporate citizens, we engage in extensive philanthropic activities.
Through our business activities on the global stage, we advance corporate management that takes into account the interests of our stakeholders and contributes to the development of each country pursuant to this Charter.
<Article 6.> The commitment of senior management
After realizing the spirit of this Charter and taking the lead in an exemplary manner for the implementation of the Charter, senior management has established a mechanism throughout the corporation to ensure thorough implementation of the Charter within the SII Group companies. Senior management encourages our business counterparts to follow this example.
In the event of violations of the Charter, senior management must assume responsibility for resolving the issues in question and make full and prompt public disclosure. On identifying the responsibility for the violation, senior management must impose strict disciplinary action on those responsible, including members of senior management itself.