SII's Sense of CSR
We look at CSR from two viewpoints: Basic CSR and Active CSR.
Basic CSR includes the fundamental responsibility of a company to manage the business in an orderly manner and earn trust through compliance and ethical corporate conduct.
In addition to compliance, or any other obligations, Active CSR is the proactive creation of meaningful value for stakeholders, and the enhancing of satisfaction for each and every stakeholder.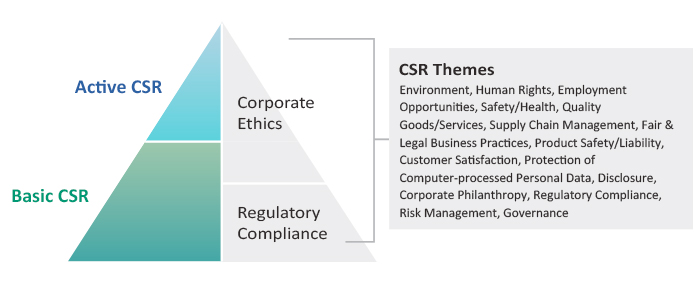 Approaches toward Sustainable Development Goals
The United Nation's Sustainable Development Goals (SDGs) were adopted in September 2015 and enforced in January 2016. SDGs is a set of 17 "Global Goals" containing 169 targets, and the achievement of this universal goals requires corporations to make ongoing efforts.
SDGs attempts to resolve a wide range of social issues common to the international community, including the environment, poverty, hunger, and decent work. There are also goals related to the foundation of business operations such as responsible consumption and production.
SII, as a corporation and member of the international community that has developed business on a global basis, has a responsibility to support the achievement of SDGs.
Innovation is essential for the achievement of SDGs, and it cannot be actualized if we continue to work as we have done in the past. SII owns "SYO"ism* technology that has been developed based on watchmaking technology. We pursue innovations by leveraging our "SYO"ism technology and remain committed to making a contribution to the achievement of SDGs in our business activities.
* "SYO"ism signifies three keys of our technological philosophies: "Craftmanship," "Miniaturization," and "Efficiency."