Our time-honored technologies, accumulated from decades of precision wristwatch production, satisfy complex application requirements, ranging in size from micron-level to palm size.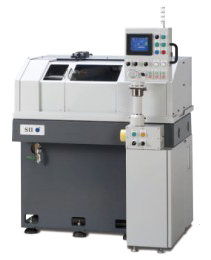 This is the CNC Internal Grinder STG-3N which meets demands of high-mix low-volume production due to realize downsizing and high cost performance. See details
Features
Space-saving A0 size footprint.
SII original spindle assures a highly efficient grinding process.
Optimizing for multiporpus use.
Easy maintnance and high cost-performance.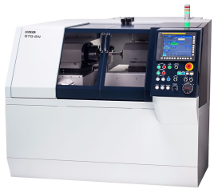 It is a space-saving CNC internal grinder that realizes the equipment width of 1,600 mm while supporting 6 inch chuck. The workhead spindle is equipped with a 6 inch scroll chuck to cope with the expansion of the work size which was requested so far. See details
Features
Just size compact design while supporting 6 inch chuck
High-rigidity, high-power wheelhead spindle is equipped
to realize high-efficiency, high-precision processing
Design considering workability
Support to FANUC FIELD system