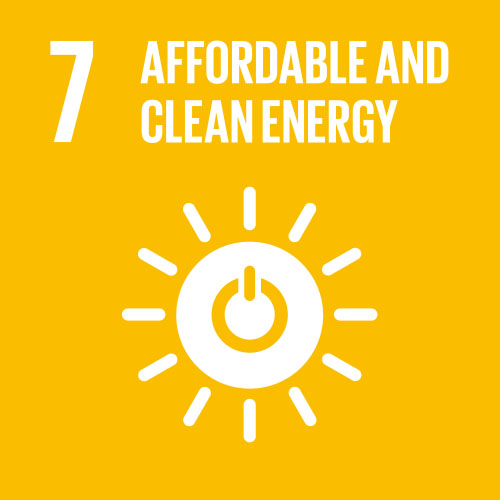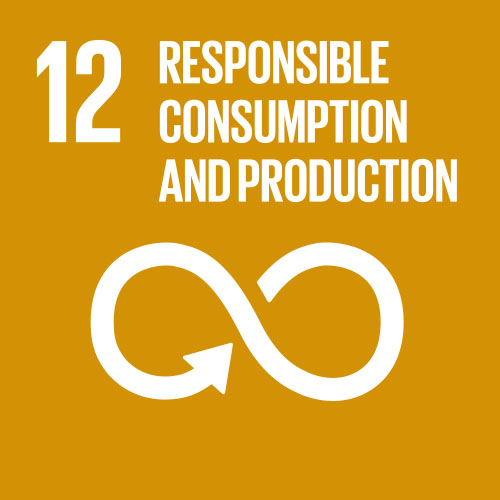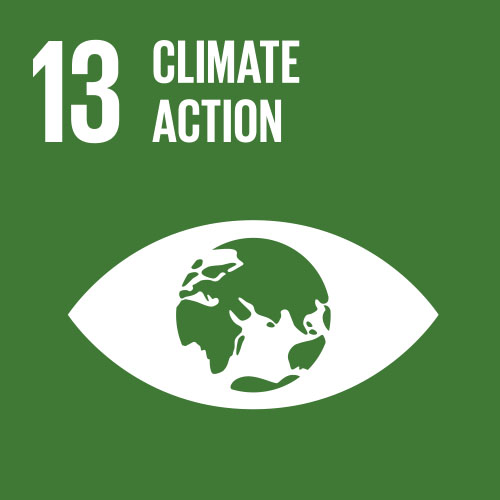 Action against Global Warming
Our Approach to Combatting Global Warming
With the adoption of the Paris Agreement, a global framework for combating global warming has been established, and all countries are committed to setting targets and working towards them. In order to achieve a decarbonized society, companies have an increasingly important role and responsibility to play. At the same time, the risks to business due to global warming, such as the frequent occurrence of natural disasters, have been increasing year by year.
SII has been striving to reduce greenhouse gas emissions through all of our business activities, including energy-saving activities at our manufacturing sites as well as the products and services we provide. While continuing these activities, we will strengthen our efforts toward decarbonization by introducing renewable energy and other measures.
FY 2019 Overview
In FY 2018, energy-derived CO2 emissions at our sites in Japan were significantly reduced due to the removal of our semiconductor business from the scope of consolidation. In FY 2019, there was no significant change in operations, with CO2 emissions totaling 42,078 tons-CO2, a reduction of 304 tons-CO2 from FY 2018. In addition to ongoing efforts such as efficient operation of facilities, we also made efforts to switch to LED lighting and to upgrade our equipment. In FY 2019, energy-derived CO2 emissions from our sites outside Japan were 36,023 tons-CO2, a slight increase from FY 2018, but efforts were made to operate facilities more efficiently and to replace lighting fixtures with LED lights.
Long-term Outlook
In April 2020, SII started its operations under a new structure. A major reorganization has been carried out within the Seiko Holdings Group, with the watch business transferred to Seiko Watch Corporation, and research and development and production technology development functions transferred to Seiko Holdings Corporation. As a result, SII's environmental impact, including CO2 emissions, will be greatly reduced. The medium- to long-term vision and targets will be set after determining the environmental impact of the new structure.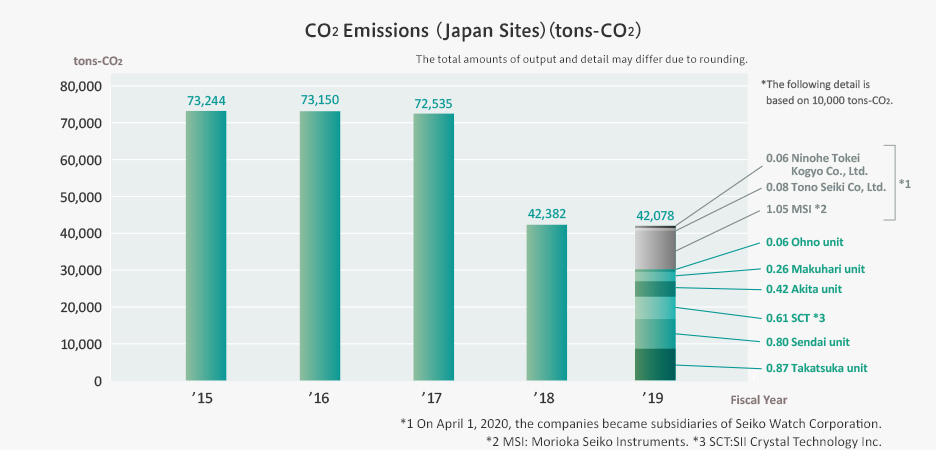 CO2 Emissions (Japan Sites): 


42,078

tonsーCO2

304

tonsーCO2 decrease, or

-0.7%

from FY 2018
In accordance with the revision of CO2 emission factors, the amount of CO2 emissions prior to FY 2018 has also been recalculated.
The following emission factors are used.
Electricity: "Emission factors by electric utility" specified in the Law Concerning the Promotion of Measures to Cope with Global Warming
Fuel: "Unit calorific values and emission factors by fuel type" specified in the Law Concerning the Promotion of Measures to Cope with Global Warming
---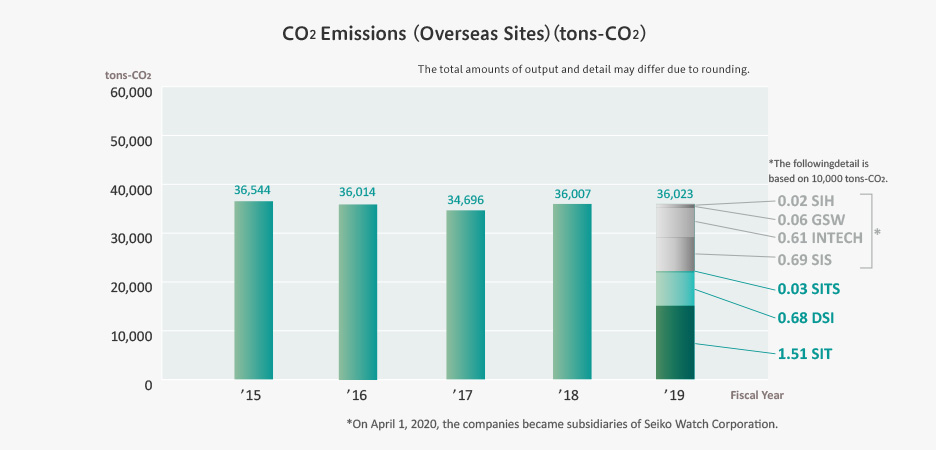 CO2 Emissions (Overseas Sites): 
 

36,023

tonsーCO2

15

tonsーCO2 increase, or

0%

from FY 2018
Overseas bases

SIT

: Seiko Instruments (Thailand) Ltd. 

DSI

: Dalian Seiko Instruments Inc.

SITS

: Seiko Instruments Technology (Shanghai) Inc.

SIS

: Seiko Instruments Singapore Pte. Ltd.

INTECH

: Instruments Technology (Johor) Sdn. Bhd

GSW

: Guangzhou SII Watch Co., Ltd.

SIH

: Seiko Instruments (H.K.) Ltd.
The two factories of Seiko Instruments (Thailand) Ltd. (SIT) were certified at Level 3 of the Green Industry Project launched by the Ministry of Industry, Thailand. The Green Industry Project was established to advance eco-friendly industrial development and certifies five levels according to the companies' environmental activities. SIT received the Level 3, "Green System," for their systematic environmental management.
Of all SII Group sites outside Japan, Seiko Instruments (Thailand) Ltd. has the highest CO2 emissions, and since 2010 it has had an energy-specialized management system established. While going through the Plan-Do-Check-Act cycle, the site is advancing efforts such as operational status inspections and maintenance of existing energy equipment, systematic renewal of air conditioning equipment, implementation of inverter compressors, and replacement of conventional lighting with LED lighting. The site will continue to increase the effectiveness of this management system and make efforts for the effective utilization of energy and reduction of CO2 emissions, with the aim of achieving high-level certification in the Green Industry Project.