Quality Control and Product Safety
Our Concepts and SII Group Basic Quality Policy
SII deploys a wide range of quality assurance activities across the board from customers' viewpoints to ensure that our customers use our products safely with a sense of security.
"Improve the Quality, Cost, Delivery and Safety of our Products and Services to create increased value for customers."
This is the SII Group Basic Quality Policy, which incorporates our strong commitment to achieve customer satisfaction with our product quality as well as meeting high standard of cost, delivery and product safety.
We have established a quality assurance promotion system to embody the policy and have been taking the following basic measures.
1. Comply with each country's engineering laws, regulations and a wide variety of specifications
2. Establish a system and develop human resources to ensure product quality and safety in the development and design phases
3. Share information of product quality and safety
Quality Assurance Promotion System
We have established the SII Group quality assurance and product safety promotion systems that consist of the SII President, the Group's quality assurance representative serving as a chief executive, and quality assurance representatives in each division.
Each division conducts quality assurance activities based on the Basic Quality Policy. In cooperation with the Technology Development Division at head office, the Quality Assurance Division at the head office deploys company-wide initiatives through information sharing with quality assurance departments at each division, active support, education, and audit. Especially for information sharing about quality assurance and product safety, a network was established among quality assurance representatives at each division to take speedy actions.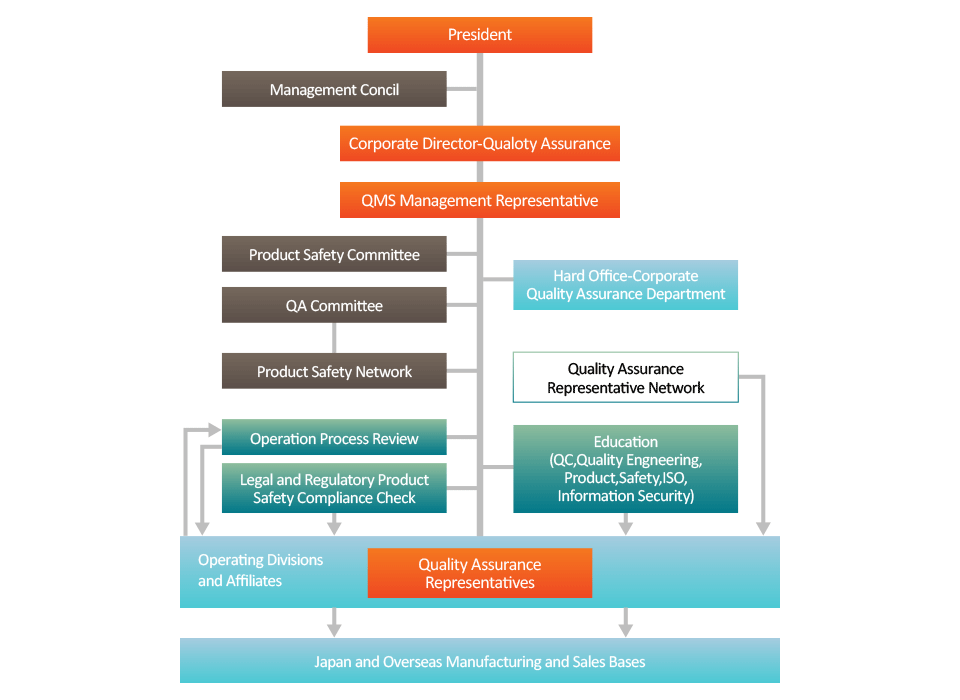 ISO9001 certification
The SII Group has obtained ISO 9001:2015 certification, the International Standard for quality management systems.
Aiming for further enhancement of our across-the-board quality assurance system, we have launched an initiative to obtain the integrated certification on a company-wide basis by integrating the conventional certification acquired by each division and affiliated company. All sites in Japan have completed the integration process, which achieved synergistic effects among divisions and increased the effectiveness of quality management systems.
Ensuring Product Quality in the Development Phase
For the most part, quality problems and variances occur due to causes in the development and engineering stages. SII ensures product quality in these stages to raise the products' entire quality level, and this approach is part of quality improvement activity in which we put a great deal of effort.
For example, SII has taken a variety of initiatives to enhance engineers' views and ways of thinking, using quality engineering, statistical approach, 3D CAD, CAE, and instrumental analysis. We also strive to minimize quality variances derived from concurrent optimization of engineering and machining parameters in collaboration with related divisions including Quality Assurance, Research and Development, Production Engineering and Analytical Estimate Divisions.
Quality Assurance that Establishes Security and Reliability
The SII basic concept of product safety is "to improve customers' trust by providing safe products and services." Based on this concept, we continue to provide the Products Safety Education to raise product safety awareness and cultivate engineers with safety knowledge.
We also established the Product Safety Network within the SII Group. For all the SII products, it conducts regular inspections of compliance with laws and regulations concerning product and technical safety, and verifies product safety and appropriateness according to each country's laws and regulations.
In case of accidents due to SII products, we report to the senior management within ten minutes, as well as attempt to promptly solve the problem and prevent the recurrence of accidents. After these actions, we share the information throughout the entire Group and deploy activities horizontally.
Global Operation Process Review
The Quality Assurance Division at the head office conducts the "Operating Process Review" of all the divisions in Japan and overseas.
The review includes checking the certainty, the level of employee awareness, the progress of improvement, and the effectiveness of all operation processes from planning, development, and manufacturing to ensure the quality of products and services.