Academic and Technical Advancements
SII contributes to technical advancements as a social contribution through donation and operational support to Foundation Advanced Technology Institute (ATI).
ATI was started in June 1986 as a voluntary organization fully funded by SII. Later, in order to carry out more socially-significant activities, ATI was established as a legally-incorporated foundation in June 1993, and in April 2012, in accordance with the government's public-interest corporation reform, it was re-established as a public interest incorporated foundation.
As well as bringing together unique and talented researchers and providing opportunities for discussions and exchanges across their respective professional fields, ATI's purpose is also to contribute to the academic and technical development of the next generation in various ways, including providing aid to young researchers. ATI is currently providing research support and aid in the area of nanoscience.
In June 2018, SII received the Medal with Dark Blue Ribbon for contributions to the public interest by way of our contributions to ATI. The Medal with Dark Blue Ribbon is one of the honors that recognizes persons who have rendered great service to the nation or public, or those who have performed great deeds in the various areas of society, and is awarded by the nation to individuals, corporations, or organizations who have donated private property or made outstanding achievements for the public good.
SII has provided support for ATI's activities since its beginning, and will continue to contribute to the fostering of young researchers and promotion of science and technology in our efforts to provide support for the next generation.

http://www.ati.or.jp/
Technical Advancement in Singapore
As our overseas research and development base, the Research & Development Division at Seiko Instruments Singapore Pte. Ltd. (SIS), our subsidiary company in Singapore, has promoted joint development in cooperation with national research institutes under the Agency for Science, Technology and Research of Singapore and universities in the country.
The office has launched a joint project with the national university in Singapore with the aim of enhancing high added value and improving productivity by developing new production processes. Young researchers employed in the local area are advancing the development of new technologies, and this development also serves as guidance on research that is provided to the local students.
In addition, the SIS R&D division develops new device design methods using computer simulations to reduce the difference between experimental results and simulation results in collaboration with Institute of High Performance Computing (IHPC) and is succeeding in developing high-performance devices with low-power and high-efficiency while reducing the number of prototypes.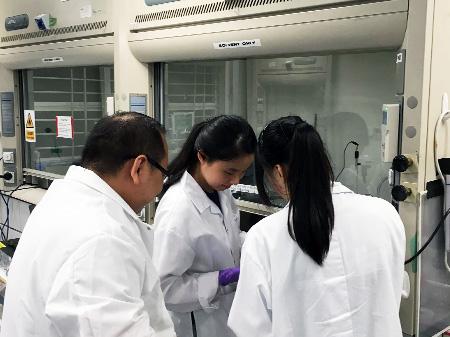 Iwate Mechanical Watchmaker Skills Assessment System
Morioka Seiko Instruments Inc. established a regional mechanical watchmaker skills assessment system in 2006 to expand and improve watch making skills, as well as to pass on the techniques to future generations.
This system is designed to revitalize Japanese-made mechanical wristwatches and is recognized as a technical assessment system in Iwate prefecture.
The assessment consists of written tests, practical skill tests, and interviews, and 31 applicants have taken on the challenge of the assessment in FY 2018. The successful applicants receive certificates issued by the Iwate governor.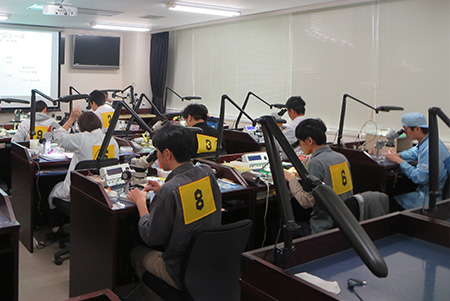 Mechanical Watch Seminar
Morioka Seiko Instruments Inc. sponsors a seminar that provides the public with an opportunity to participate in a hands-on mechanical watch assembly workshop. This seminar was launched in 2007 with hopes of increasing interests in watches and inspiring more mechanical watch enthusiasts. A total of 212 people have joined the seminar up to now.
The seminar consists of two courses: a hands-on course for beginners and a more advanced course, using watches as educational materials in which SII-made mechanical movements are incorporated. The 12th seminar was held in FY 2018 and 15 participants experienced and enjoyed disassembling and assembling mechanical watches.