Environmental Activities
Tree-planting initiative –Seiko Instruments Forest–
In August 2014, the Makuhari Unit entered into the Cooperative Forest Agreement with the Chiba prefectural government, and is currently carrying out the planting of black pine trees in the Seiko Instruments Forest located along Kujūkuri Beach in Chiba. Working as volunteers, company personnel planted 300 black pine trees in March 2015 and another 170 in March 2017, and SII has commissioned the Chiba Prefecture Forest Owners' Cooperative Association to care for the trees (cutting grass, repairing protective netting, etc.). This agreement was renewed in April 2018, and in February 2019 soil was added to the site to reinforce the ground. SII will continue to watch over the growth of these black pine trees and has plans to carry out even more tree-planting activities in the future.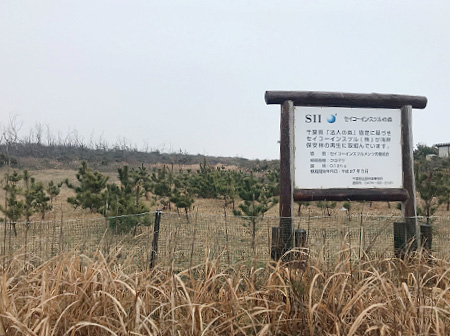 Environmental Report Meeting
Morioka Seiko Instruments Inc. (MSI) has held an "Environmental Report Meeting with Local Communities" since 2008. For FY 2018, a total of 19 members of the Shizukuishi area, including 16 local residents and three members from the government, participated in the 11th meeting held on October 10, 2018.
After MSI's explanation and report of the company profile and our environmental activities including biodiversity conservation, the participants visited the outdoor green space for biodiversity conservation, environmental facilities such as the waste liquid treatment facilities, and the watch manufacturing premises. In recent years, this event has not only been serving to report environmental activities but has also been serving as an awareness-raising activity by explaining biodiversity conservation efforts and conveying the meaning of those activities.
MSI will continue to expand its business and environmental activities while striving to meet local residents' expectations.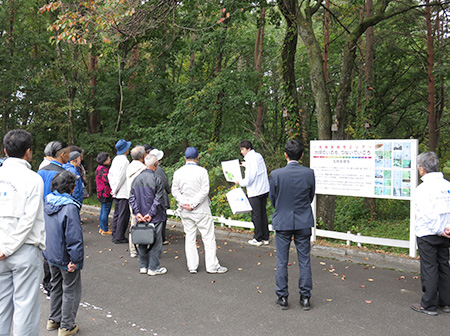 Local Cleanup Activities
Every SII Unit in and outside Japan holds regular cleanup activities around their premises, at roadsides, etc. for contribution to the local community and as part of environmental conservation.
Guangzhou Seiko Instruments Ltd. employees volunteered to clean up the local area. A total of 258 people including employees, 32 family members, and the president participated. After cleaning, they went to a Dongguan vivarium and enjoyed recreational activities in nature.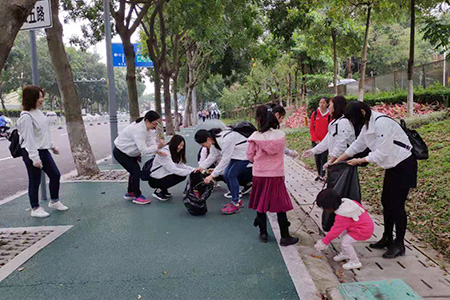 In conjunction with the 2018 Environmental Month, Seiko Instruments Singapore Pte. Ltd. organized the "Keep the Park Clean Activity" at the Woodland Waterfront Park on December 12, 2018, in which 30 employees participated. This project is carried out annually on a continual basis. The aim of the project is to involve employees in nature conservation and to the Adopt Clean & Green Attitude.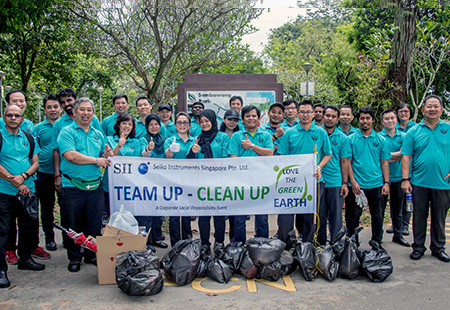 One of SII's training programs for new employees is cleanup activity in a local area. This aims to raise their environmental awareness and teach them the importance of making a contribution to a local community as businesspeople. In FY 2018, 10 new employees cleaned up a wide area from Makuhari Unit premises to the nearest Kaihinmakuhari station.
Akita Unit carries out an annual cleanup activity with walking titled "Tomoshibi, cleaning and walking." The title "Tomoshibi" means "servicing together" for making a contribution to a local community. For FY 2018, about 220 employees participated after work on May 30.
Case Study in FY 2016: Additional Planting for "Seiko Instruments Forest"
On March 11, 2017, Makuhari Unit employees visited "Seiko Instruments Forest" located along Kujūkuri Beach in Niibori, Sosa, Chiba, Japan, for additional planting. This is based on the "Cooperative Forest Agreement" concluded with Chiba Prefecture in August 2014.
Makuhari Unit employees first volunteered to plant 300 black pine trees in March 2015, hoping to regenerate the Kujūkuri coast forest preserve. After the first planting, SII entrusted the Chiba Prefecture Forest Owners' Cooperative Association to weed as part of maintenance activity and watched over the growth of black pine trees. This time SII added trees for the continued maintenance and growth check.
Fifteen employees volunteered to check the growth of the forest on site and planted 170 black pine trees under the guidance of the Chiba Prefecture Forest Owners' Cooperative Association.
After two years passed since the first planting, we observed steady and unsteady growth of black pine trees and reconfirmed the importance of continued efforts.
We will continue to check the growth of the trees and work on the forest improvement activity.