Educational Support
Internship Programs and Factory Tours
Each SII Unit continues to provide factory tours as well as work-study and internship programs for local pupils and students.
SII Watch Technical Training and Education Center in Makuhari Unit has accepted 12 junior high school students in Chiba prefecture for work-study and internship programs.
These educational programs are called Job and Dream Best Match Programs and the aim is to help people find ways to make their work rewarding and interesting and to learn the importance of having a connection with society through working. This marked the 13th time the program was implemented.
Students learned about the different types and structures of watches and tried their hand at assembling analog quartz watches. In this hands-on experience, the students were amazed at the complexity of the watch parts and wore anxious expressions as they assembled their watches using tweezers and screwdrivers, but when their watches were safely completed and working, they were beaming with smiles of relief.
Some even expressed the view that this provided a good opportunity to think about their future careers.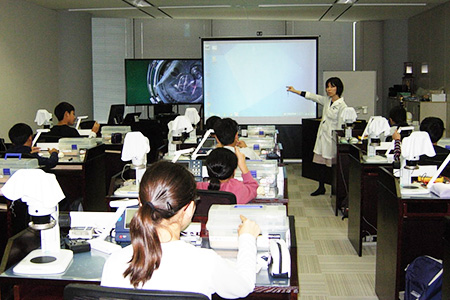 Makuhari Unit also runs a work-study program as part of a Career Education Camp for Science and Advanced Technology Workout hosted by the Chiba Prefecture Board of Education.
Every year, SII Crystal Technology Inc. accepts interns from local technical high schools and universities. After an introduction to the company and safety training, the interns participate in practical workshops including such things as visual inspections in the production process, reliability testing, and facility management operations. Feedback from the students has included such comments as "we learned that what makes a factory is not just those who carry out the manufacturing, but also those who provide background support by managing things such as waste water and electricity or tending to the boilers, etc."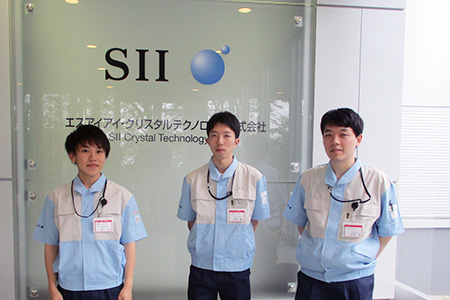 Seiko Instruments Singapore Pte. Ltd. accepted four junior high school students for a work-study program from the Japanese School in Singapore. This program is promoted by the Ministry of Education, Culture, Sports, Science and Technology in Japan and carried out by Japanese junior high schools in Singapore. This was the ninth time.
The students participated in the reception service and watch assembly process over a total of two days. During the watch assembly process, they were surprised at the mechanisms and functions of watches, and enjoyed their learning experience.