Community Activities
Social Welfare Activities
The SII Group subsidiaries and affiliates conduct social welfare activities entrenched in local community.
On January 12, 2019, Children's Day in Thailand, four Seiko Instruments (Thailand) Ltd. employees visited two schools and gave out presents.
As part of Safety and Health Month activities carried out by Instruments Technology (Johor) Sdn. Bhd in Malaysia, employees have been donating blood to the local national hospital since 2013. In FY 2018, 97 employees from Larkin factory and 120 employees from Tebrau factory donated blood.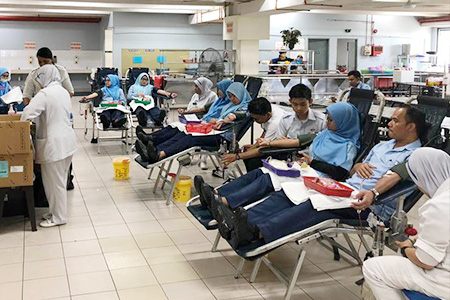 Because the Ohno Unit (Ichikawa City, Chiba prefecture) is located near houses, it is carrying out initiatives aimed at fostering harmony with local residents, such as participating in local neighborhood cleanup activities and the 110 Safety Refuge Program of local elementary schools.