RP-E10 series
POS Printer
POS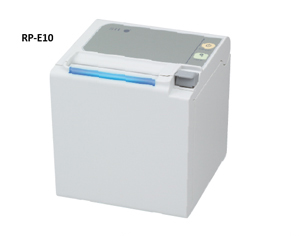 POS Printer
RP-E10
series
RP-E10: Receipt top-exit
RP-E11: Receipt front-exit

(IPX1)

Compact cube: 129mm x 129mm x 129mm
Max printing speed: 350mm/sec
High Reliability: 150km, 2 million cuts
Wide variety of driver and utility software suite
Large LED indicator

(Multi-color)
Model
RP-E10 (Receipt top-exit)
RP-E11 (Receipt front-exit)
*1 Use recommended thermal papers. *2 Excluding protrusion. *3 Please see "Associated software tool" for details.
Printing
Method
Thermal line dot printing
Number of dots/line
576
Resolution (dots/mm)
203 (8 dots / mm)
Paper width (mm)
58 / 80
Printing width (mm)
54 / 72
Speed (mm/sec) max
350
Outside diameter of paper roll (mm) max
ф 83
Inside diameter of paper roll (mm)
ф 12
Character matrix
(H×W dots)
24 × 12, 24 × 24, 16 × 8, 16 × 16
Character dimensions
(H×W mm)
3.0 × 1.5, 3.0 × 3.0, 2.0 × 1.0, 2.0 × 2.0
Type of Paper
Roll paper, Timing mark roll paper (Built-in timing mark sensor)
Character type
Codepage (14 pages), Katakana character set,
User-defined character, Downloaded character,
Optional font, JIS 1st and 2nd level Kanji, Special characters
Bar code
UPC-A/E, JAN (EAN) 8/13, ITF, CODABAR, CODE39, CODE93,
CODE128, QR Code, PDF417, GS1 Databar, MaxiCode, Data Matrix
Power supply (V)
Specified AC adapter, External power (DC24V ± 5%)
Communication interface
USB, Serial, Powered USB, Ethernet
Input buffer
16k bytes
Command
ESC/POS™ conformity, Markup Language
Cutting
Methods
Slide type
Cutting type
Full cut / Partial cut (Leave center point)
Operating temperature (˚C)
5 to 45
Service life (km)
Abrasion resistance (km)
150*1
Paper cutting (cut)
2,000,000*1
Dimensions (W×D×H mm)
129.0 × 129.0 × 129.0*2
Mass (g)
Approx. 1300
Standard
FCC, CE, VCCI, etc.
Option
Wall mounting kit, Back plate
Cash drawer
2 drivers (24V / 1A)
Body color
2 colors: White / Black
Software*3
Printer Driver/SDK, OPOS Driver, POS for .NET Driver, JavaPOS™, Android™ SDK, iOS SDK, Linux® CUPS Filter/SDK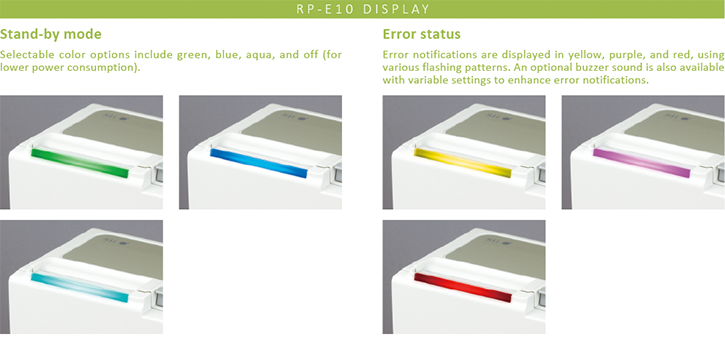 POS Printer
RP-E10
Series
Receipt, slip, ticket and more. RP-E10 series is ideal printer for many applications.
Supermarket

Apparel store

Kitchen

High performance printing to
speed up checkout process,
and improve business efficiency.
Compact design to fits into any tiny space, even under the counter.
By the water proof design, RP-E10 performs as a kitchen printer.
OPTION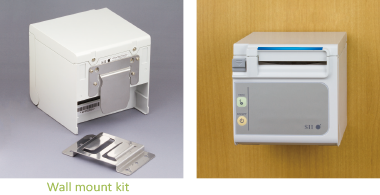 Wall mount kit
The smallest printer fits any place, even on the wall.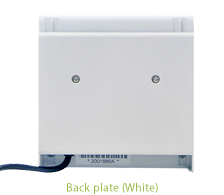 Back plate (Black / White)
Cables on back side can be neatly covered by this option.