RP-F10 series
POS Printer
POS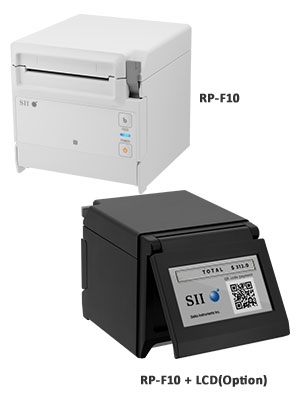 POS Printer
RP-F10
series
2-way: Paper top-exit and front-exit

(IPx1)

Compact cube: 127mm x 127mm x 127mm
Max printing speed: 250mm/sec
Optional 4.3 inch color LCD can be mounted
on RP-F10
Easy pairing with a Bluetooth terminal
via NFC

(Bluetooth Model)

Cutter lock automatic restoration mechanism
Various drivers and wide variety utility software

Model
RP-F10
*1 Use recommended thermal papers. *2 Excluding protrusion.
ESC/POS™: Registered trademark of SEIKO EPSON CORP.
Windows® is the registered trademark of Microsoft Corporation(USA).
Android™ is a trademark of Google Inc.
This product is under development. The specs are subject to change.
Printing
Method
Thermal line dot printing
Resolution (dpi)
203 (8dots/mm)
Paper width (mm)
58 / 80
Printing width (mm)
54 / 72
Speed (mm/sec) max
250
Outside diameter of paper roll (mm) max
ф 83
Character matrix (H × W dots)
24 × 12, 24 × 24, 16 × 8, 16 × 16
Character size (H × W mm)
3.0 × 1.5, 3.0 × 3.0, 2.0 × 1.0, 2.0 × 2.0
Type of Paper
Roll paper
Character type
Codepage (14 pages), Katakana character set,
User-defined character, Downloaded character,
Optional font, JIS 1st and 2nd level Kanji, Special characters
Bar code
UPC-A/E, JAN(EAN)8 /13, ITF, CODABAR, Code39,
Code93, Code128, QR, PDF417, MaxiCode, Data Matrix, GS1 Databar
Power supply
Specified AC adapter, External power (DC24 ± 10 %)
Communication interface
USB+USB-host, Ethernet+USB-host, Bluetooth (NFC)+USB-host,
Bluetooth(NFC)+USB Type-C/PD+USB host
Input buffer
4K bytes
Command
ESC/POS™ conformity
Cutting
Method
Slide type
Cutting type
Full cut / Partial cut (Leave center point)
Operating temperature (˚C)
5 to 45
Service life
Abrasion resistance (km)
150*1
Paper cutting (cut)
1,500,000*1
Dimensions (W×D×H mm)
127.0 × 127.0 × 127.0*2
Mass (g)
Approx. 840
Standard
FCC, CE, VCCI
Option
Wall mounting Kit, Buzzer, LCD (4.3inch color)
Cash drawer
2 drivers (24V / 1A)
Body color
2 colors: White / Black
Software
Printer Driver/SDK, OPOS Driver, POS for .NET Driver,
Android™ SDK, iOS SDK, Linux® CUPS Filter/SDK

Utility soft

(Build on the Windows® driver)
Memory SW setting, LOG management, USB serial ID setting, NV image registration, Code page registration
POS Printer
RP-F10
Series
Receipt, slip, ticket and more. RP-F10 series is ideal printer for many applications.
Supermarket

Apparel store

Kitchen

High performance printing to
speed up checkout process,
and improve business efficiency.
Compact design to fits into any tiny space, even under the counter.
By the water proof design, RP-F10 performs as a kitchen printer.
iOS/Android™/Windows® & Bluetooth®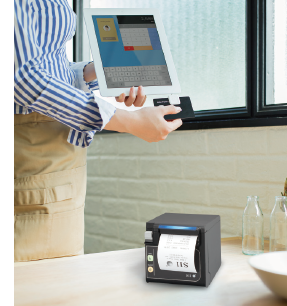 With the stylish and compact design, RP series performs a key role in smart device POS system. The Bluetooth® interface and software SDK for Android™, Windows® and iOS devices provide a best solution for your system.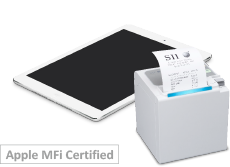 "Made for iPod", "Made for iPhone", "Made for iPad" mean that an electronic accessory has been designed to connect specifically to iPod, iPhone and iPad respectively, and has been certified by the developer to meet Apple performance standards. Apple is not responsible for the operation of this device or its compliance with safety and regulatory standards.
Approval Process for SII MFi printer on APP store »
OPTION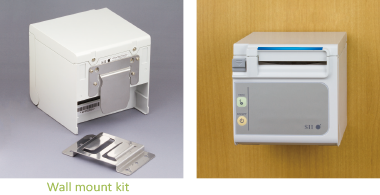 Wall mount kit
The smallest printer fits any place, even on the wall.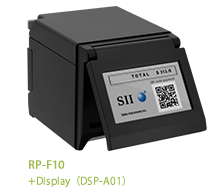 Display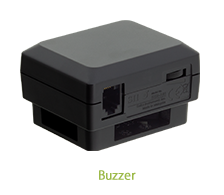 Buzzer