Environmental Education
Promotion of Environmental Education
Each employee's increased awareness and environmental practice is essential to promote environmental activities. The SII Group Environmental Policy clarifies that all employees seek to raise their environmental awareness and protect the environment in their personal lives.
SII has formulated environmental education programs in 1996 and has been performing enlightening activities in a continuous manner.
SII head office conducts a wide range of environmental programs in three categories: general education, special education, and training for internal qualification. The programs are reviewed every year based on a global trend and in-house needs. In addition, we send out questionnaires at the completion of the courses to improve the next programs.
Environmental Education Programs
| [General Education] | [Special Education] | [Training for Internal Qualification] |
| --- | --- | --- |
| New employee course | Eco-friendly product and product environmental laws and regulations | Internal environmental auditor training |
| Basic environmental course | Energy saving | Internal environmental auditor brush up seminar |
| [Managers] Basic environmental course | Waste management | |
| | Chemical substances control | |
In FY 2018, a basic environmental course intended for managers was newly added to the educational programs provided by the head office. The aim of this course is to improve managers' competence in environmental management. In FY 2018, 473 employees attended the educational programs provided by the head office, bringing the total number of participants to 4,438 when including the program held at each site. In addition, the sites in and outside Japan conduct their ingenious environmental education programs and enlightening activities.
Environmental Education and Case Studies at Sites Outside Japan
Aiming to enhance environmental awareness and encourage adoption of environmentally-friendly practices into our daily lives, every year Seiko Instruments (H.K.) Ltd. (SIH) invites Green Sense (Hong Kong's non-governmental organization focused on environmental issues) to arrange in-house green workshops. In FY 2018, the company held a "Herb Growing Workshop," which 22 SIH employees took part in. After a briefing on plastic waste recycling and organic farming, they learned how to grow herbs indoors using environmental materials and methods.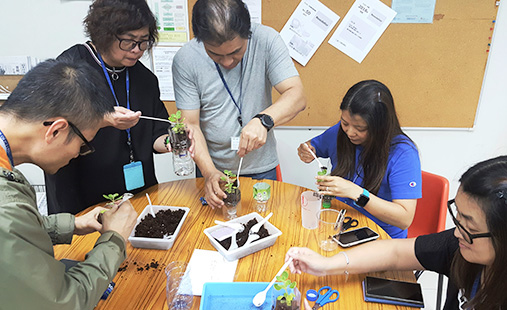 In addition, 35 SIH employees and family members participated in the activity "Hong Kong Geopark Full-day Tour." They followed a geopark guide to observe the landforms and landscapes, experienced the power of nature, and learned about ecology, natural history, and culture. The participants were able to gain a greater awareness of environmental and cultural heritage conservation.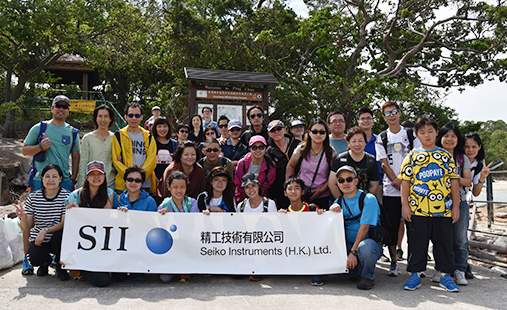 Instruments Technology (Johor) Sdn. Bhd (INTECH) hosted the Recycled Art Competition throughout March 2019 for Safety, Health & Environment Month. The goal of the activity was to promote recycling, reducing, and reusing of materials and foster participants' creativity and innovation. The submitted works of recycled art had to include fully recycled or reused materials. There were 36 submissions, which were judged by the management team.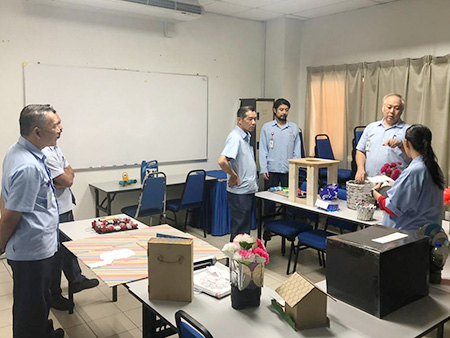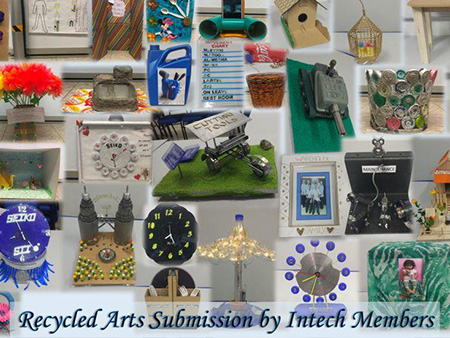 INTECH also set the period from March 20 to 31 as a Recycling Week and conducted an educational activity for all employees. The activity reaffirmed the importance of recycling and the sorting rule, and raised employees' awareness.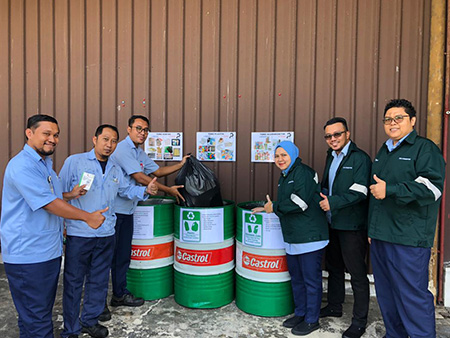 Environmental Information Delivery
The Corporate Environmental Administration Department at the head office operates its intranet website called "eco-town" that delivers wide-ranging environmental information including laws and regulations, progress toward the SII Group's environmental goals, and environmental activities carried out at each site.
The eco-quiz pages provide environmental information and knowledge in a quiz format as part of environmental education.